Ferrari unveils 'closest drive to Formula 1'
Ferrari has revealed its most powerful road car of all time – and there's not one, but two of them!
The Italian marque introduced the limited-edition models, christened the Monza SP1 and the Monza SP2, at the recent Ferrari Capital Markets Day at its Maranello home.
Reaching 100km/h (62mph) in just 2.9 seconds and named after the legendary Italian racing circuit, it's not surprising that they've been dubbed the closest driving experience to Formula 1.
And it doesn't stop there. The models are the first to be unveiled from the new Icona series, which means we'll be seeing much more from the Maranello manufacturers in the coming years.
Stripped-out
Fewer than 500 of the new models will be made. They'll come either in one-seater or two-seater versions and have neither a roof nor traditional windscreen.
The Monza SP1 has been designed as a stripped-out drive for one, while its sister car, the Monza SP2 has a second seat.
Both models come with an innovative "virtual windscreen", a system incorporated into the fairing ahead of the steering wheel and instrument panel that deviates airflow.
And both models are powered by 6.5-litre V12 engines, which produce nearly 800 horsepower when revved up to 8,500rpm and a staggering 530 pounds-feet.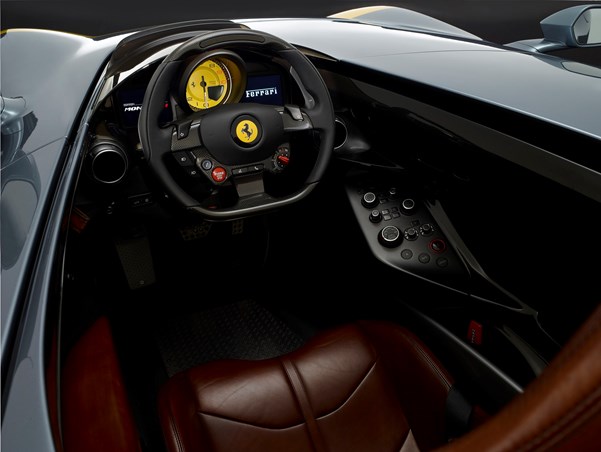 Heritage
The models are designed to pay tribute to the marque's impressive heritage, including the 1948 166MM and the 750 Monza.
And with a sleek carbon-fibre body that wraps snuggly around all that horsepower, it's enough to make a Ferrari fan go positively weak at the knees.
But you'll need a strong stomach when it comes to the price, with the cars likely to cost upwards of £1 million.
And even if you did have a cool £1 million laying around, Ferrari have already sold their entire production run. But we can still dream…