03 March, 2015
And what a show it was!
As a specialist in classic motor trade insurance it was great to see so many of the classic motor dealers displaying their vehicles at this event. It was also a pleasure seeing many FJ insured restorers showcasing their skill and craftsmanship in some of the finest and iconic classic cars around.
Indeed - the London Classic Car Show very much focused on the high end of the classic car market, and proved an enjoyable occasion for the avid collector, prestige owner and enthusiast alike.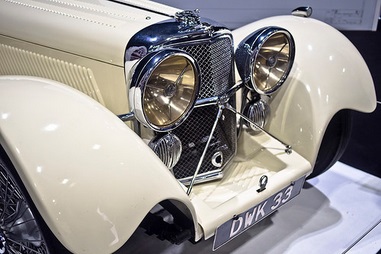 Whilst not the largest classic car show in the UK, it definitely made up for what it lacked in quantity with a show of high quality and rarity, filled with valuable, rare and desirable cars.
We also saw some great art on display, with James Corbett's animal sculptures providing some extra eye candy. The unique thing about these works of art were their humble origins as spare car parts.
Another element to the show making it stand out as a high class event were the many feature exhibitions.
Feature exhibitions
James May's "cars that changed the world" had a collection of vehicles that would raise debate, such as the very first Volkswagen Beetle from 1938. Looking at the vehicle it has remained true to the original build through the generations, deserving its iconic status.
The Adrian Newey exhibit was definitely worth a visit. Adrian Newey is considered one of the top engineers in Formula One, having won many design titles in the Grand Prix field.
The display mapped his career and included a Lotus Elan Sprint which he helped his father build aged just 12, when his enthusiasm for cars really began to take hold.
Adrian won World Constructors' Championships 5 times for Williams, a further 5 times with McLaren, and 4 times at Red Bull, having some superb examples on display including a Williams 1992 FW14B; the car that provided Nigel Mansell's only world title.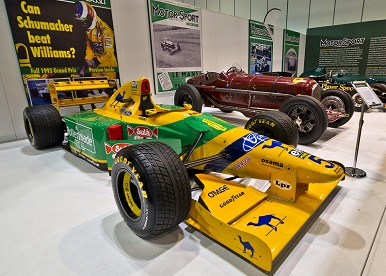 Other vehicles on show from his collection included:
- Jaguar SS100
- Ford GT40
- McLaren F1 GTR
- Ferrari California.
- Ducati 900SS
The Motor Sport Hall of Fame paid tribute to 8 legends of motorsport: Enzo Ferrari, Tazio Nuvolari, Juan Manuel Fangio, Sir Stirling Moss, Jim Clark, Sir Jackie Stewart, Ayrton Senna and Michael Schumacher.
Finally, the Grand Avenue gave you the chance to see and hear some of the finest classics up close and personal, with over 40 popular classic cars taking to the 'catwalk' over the weekend.
We're sure this event will continue and grow, and will certainly be one to include in next year's classic car dealers diary!