Five modern classic luxury saloons for under £5k
Wondering about the best luxury saloon cars available to buy today for less than £5,000? We've gathered our favourite affordable luxury modern classics that each cost less than a secondhand supermini.
Audi A8/S8 (D2)
Credit: Audi UK
Thanks perhaps to a starring role in the 1998 action thriller 'Ronin', Audi's flagship S8 saloon retains a unique blend of brutish style and sophistication - even almost 25 years later. Few affordable examples of the D2 S8 remain on the market, but the contemporary A8 also looks the part for well within budget. Offered with a choice of V6 and V8 petrol engines in the UK, all examples featured aluminium spaceframe construction, reducing weight and risk of corrosion. Developed under the tenure of Ferdinand Piech, who's CV also included the Bugatti Veyron, Audi quattro and Porsche 911, the D2 deserves to be remembered for years to come. After all, if it's good enough for Robert De Niro…
BMW 7-Series (E38)
Our second contender is another '90s movie star – and who doesn't want to own a Bond car? The E38 BMW takes lead role in a particularly memorable scene in Tomorrow Never Dies, with Pierce Brosnan piloting a remote-control 750iL from the comfort of the back seats. The 7-Series' on offer today won't offer that feature – but will promise the best refinement Bavaria had to offer in the 1990s. Arguably the best looker on our list, the E38 also offers a fantastic choice of engines – including a showstopping V12.
Jaguar XJR-6 (X300)
Credit: Jaguar
When Jaguar's new XJ arrived in 1994, it marked a vast improvement in quality over the earlier XJ40. The radical redesign was the first fruit of Ford's labours following acquisition of Jaguar in 1990, with the new XJR-6 representing the cream of the crop. The first in a long line of supercharged Jags, it packed an impressive 326bhp. This mighty executive express is increasingly rare on the secondhand market and some cheaper examples may suffer with rust issues, so its best to do some thorough checks if you're considering one.
Lexus LS400
Credit: Lexus GB
After years languishing in the secondhand doldrums, the Lexus LS400 has already began its resurgence as a true modern classic. It marked an important moment in luxury car history: here was Toyota's unashamed attempt to beat Mercedes-Benz at their own game, a car built to take on the S-Class. When development began in the late 1980s, its rumoured that Toyota engineers bought and dismantled examples of the German market leader to understand what they were up against. Though you'd never describe its 4.0-litre V8 engine as economical, the LS400 still oozes quality, charm, and reliability – better get in there quick…
Mercedes-Benz W124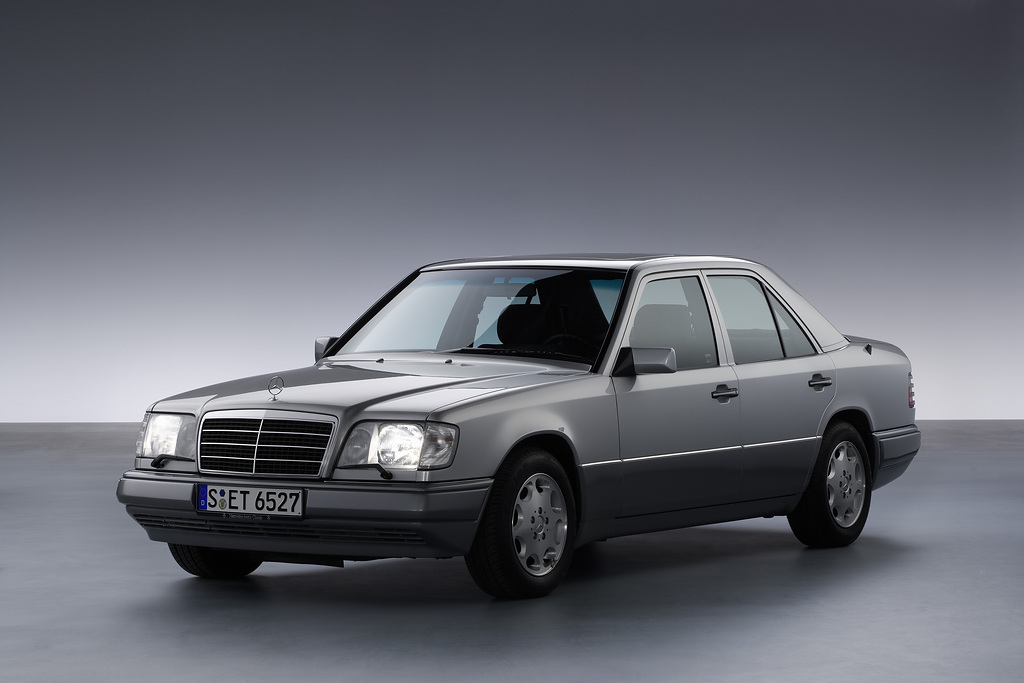 Credit: Mercedes-Benz Media
Regarded by many as a highpoint in Mercedes' model history, the earliest examples of the W124 are now approaching their fortieth birthday. Such was the model's flawless build quality, a relatively large number of examples are still in dutiful daily service, particularly in mainland Europe. The W124 saloon is a prime example of a usable classic, whether you're considering the economical five-cylinder or the luxuriously silky straight sixes. Rebranded as 'E-Class' in 1993, the design remained largely unchanged throughout a thirteen-year production run and there's still a solid selection of affordable examples to choose from. Our budget falls short of the range-topping, Porsche-developed 500E though – you'll need at least £35k for one of those.
Have you owned any of the luxury saloons on our list? We'd love to hear your ownership experiences – or if we've missed your favourite.