FJ Fundraiser Leaves Charity Full Of Beans
Footman James staff can feel justifiably proud after helping to raise a smile, and hundreds of pounds, through a charity fund-raising coffee morning.
Our final total of £585.31 for Macmillan Cancer Support is an improvement of nearly £100 on last year's event. In fact, September's nationwide Macmillan World's Biggest Coffee Morning event is now an eagerly-anticipated date in the diary.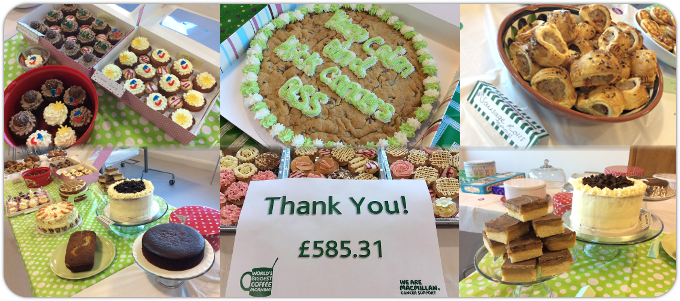 The magnificent 7:
FJ's top coffee morning attractions
Cake stall: savoury and sweet-toothed attendees alike enjoyed tucking in to FJ staff's tasty treats.
Quiz: those who fancy their chances as Eggheads or Chasers tried their hand at rounds involving music, general knowledge and celebrity photographs. The winner scooped half-a-day's leave!
Pin the cherry on the cupcake: this tasty spin on the traditional party game also won the successful competitor half-a-day off.
Bake-Off Bingo: staff bought bingo boards and finished the game by email. The full house winner accepted the prize of one day's holiday, while the line winner opted for beer.
Raffle: warm-hearted workers contributed more than 20 prizes to the cause, such as gin, wine, beer, a loveable teddy bear, chocolates and a do-it-yourself afternoon tea. A month's free gym membership, courtesy of The Village Hotel, was also up for grabs.
Guess how many spots are on top of the cake: the game was self-explanatory and the lucky winner took home a third of this activity's proceeds.
Giant cookie auction: employees bid for a special "Keep Calm and Kick Cancer's Ass" cookie. This giant biscuit proved a great temptation for sweet-toothed staff.
Footman James says...
Director David Bond expressed his "delight" at Footman James being able to join September's nationwide event and raise so much money towards helping cancer patients.
He called the day "good fun" and praised every worker who participated.
Stat attack
the coffee morning remains the jewel in Macmillan Cancer Support's fundraising crown, raising £25 million across the country last year alone
the event dates back 25 years, when £208,000 was raised
the number of participants has soared from 2,600 supporters in that inaugural year to more than 200,000 attendees last year
over the years the annual coffee-drinking and cake-eating event has raised a total of over £139 million