19 July, 2016
Footman James is once again taking part in fundraising activities to raise money for charity. FJ has insured the Morris Minor Owners Club 1962 Morris Minor as it goes on a journey across the UK from John O'Groats to Lands End to help raise money for Marie Curie. The Morris Minor will pass by the Footman James HQ on Wednesday 14th September 2016.
In addition, Footman James has begun donating £1 for every new and renewed policy during June, July and August, for all MMOC members.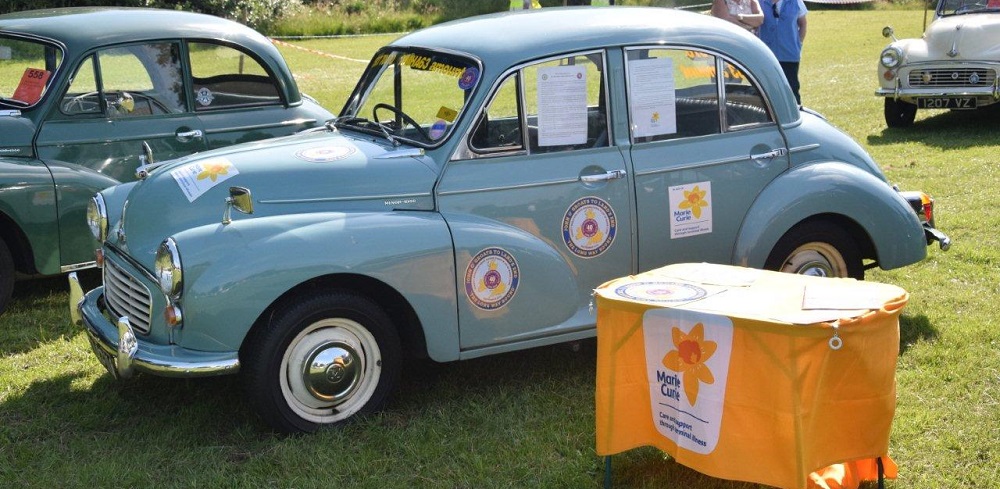 FJ began hosting fundraising events week beginning Monday 11th July where staff have been taking part to raise money. So far the activities have included:
• Dress down Monday – Every Monday staff have the option to beat the 'Monday Blues' and dress down for just 50p.
• Cycle ride – Staff have volunteered to complete a few miles each on a training bike to make up the miles the Morris Minor will be travelling from John O'Groats to Lands End. So far Tom Astbury holds the record of 31.69miles completed in an hour.
• Raffle – Monday 11th staff bought raffle tickets for £1 each for a chance to win a hamper, ½ day annual leave or a full day annual leave. Congratulations to our winners - Stephanie Latty, Alison Davies and Joseph Lewis
• Guess the amount of sweets in the jar (851) – For just 50p, FJ staff entered into a competition to guess the number of sweets in the jar. Ann Brookes guessed the closest of 850 and won the jar of yummy treats.
Footman James staff are yet to enjoy:
• Pie face your boss (most anticipated) - For just £1 per cream pie, staff will have the chance to 'pie face' one of the senior managers; Samantha Smith, Keith Davis, Jay Bayliss or David Bond.
• Famous movie cars – Staff can enter a competition to identify famous movie cars for just 50p and have the opportunity to win a mystery prize.
• Cake sale – FJ staff have volunteered to make, bake or buy 'fruit and veg' related cakes for the first FJ cake sale this year.
David Bond, Footman James' Director said: "I am extremely proud of the staff at Footman James. They have really come together to support Marie Curie and the Morris Minor Owners' Club through various activities. So far after the first week, we have completed over 700 miles on the exercise bike and I'm sure a lot of the staff are looking forward to more activities to raise money, especially 'Pie face your boss' day!."