The Intercooler Partner with Footman James
Footman James are pleased to have partnered with The Intercooler, a fantastic new app perfect for classic enthusiasts.
The Intercooler is not just the newest motoring title out there, it's also the very first digital magazine of its type. An advertisement-free automotive subscription app, it exists, say founders Andrew Frankel and Dan Prosser, for those who both love classics and love reading what the finest automotive writers of our time have to say.
The Intercooler was conceived with a very clear objective – to combine the highest quality automotive journalism with the most modern and convenient form of delivery that exists. The app is updated daily with great stories from some of the best motoring writers working today. 
"At The Intercooler," comments Andrew, "we believe something has gone missing in the endless avalanche of new cars upon which motoring journalists now have to report, and it's perhaps the most important thing of all: the story. We have therefore made the quality of the stories we produce the single most important thing of all."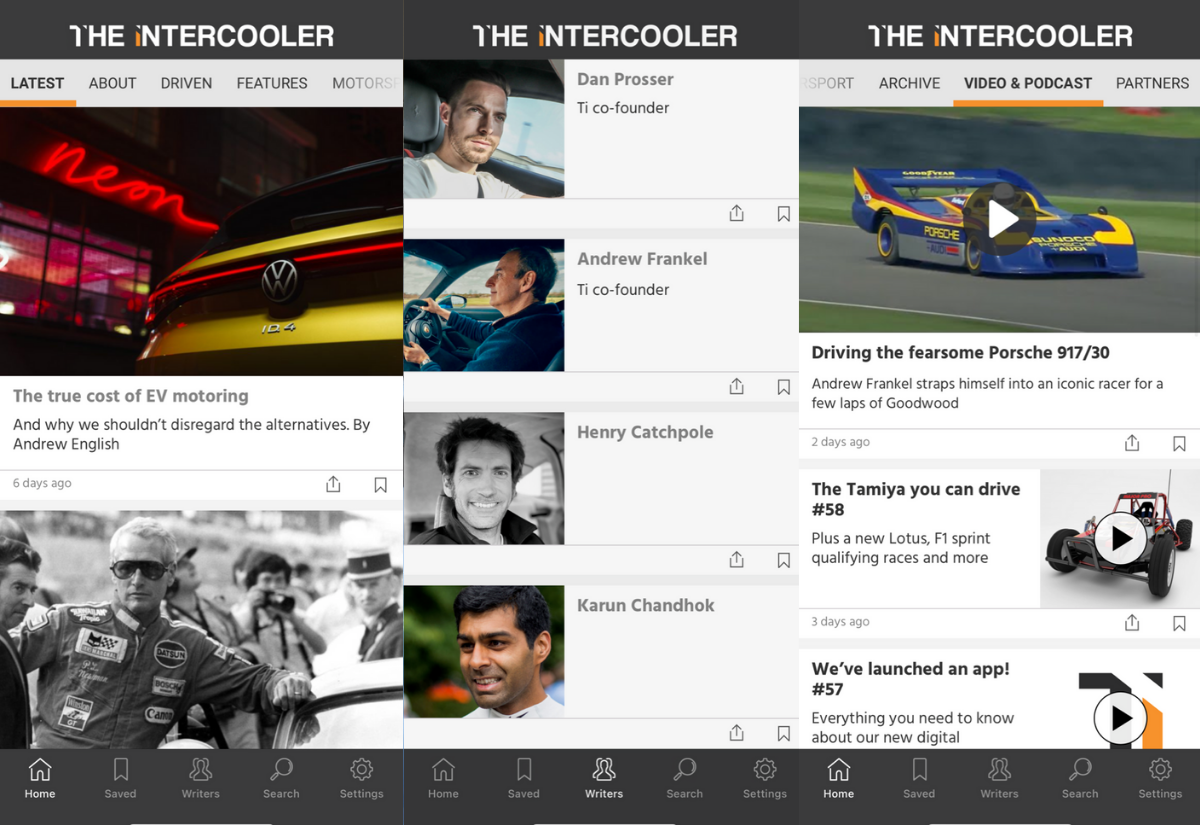 Free from irritating pop-ups and display ads, the app covers all aspects of motoring – news, reviews, motorsport, historics, engineering, design and the people who have made the industry what it is.
The magazine's roster of contributors includes some of the finest automotive writers of our times, covering subjects that matter to readers and not to advertisers. Along with founders Andrew and Dan, its writing team includes journalists of the stature of Henry Catchpole, Karun Chandhok, Mel Nichols, Colin Goodwin, Andrew English, Peter Robinson and others.
As well as the best-established automotive writers of the day, The Intercooler also gives new writers the opportunity to find an audience. This includes young aspiring journalists, but also car engineers of real renown, such as David Twohig, who oversaw the development of the Alpine A110 sports car. His vast and varied experience in car engineering enables him to write uniquely revealing articles about the industry. 
Along with the finest writing and the best photography, the app also carries subscriber-only video content and podcast episodes, including interviews with racing drivers, designers and car company bosses. 
The Intercooler takes its inspiration from Car magazine in the 1970s and 1980s. Passionate, fearless and fiercely independent, it was a title read as much for its writers as the subjects upon which they wrote. The Intercooler aims to capture that spirit and apply it to a 21st century format where it can be enjoyed not just in our increasingly rare and precious moments of downtime, but wherever we are and whatever we're doing.
You can see more about The Intercooler here.