FJ To The Rescue
Footman James first launched its collection of products named FJ+ in 2014 to reflect the needs and requirements of classic vehicle owners. FJ+ allows customers to select add-ons to suit their needs and therefore allowing them to tailor their policy specifically to their usage. FJ+ includes driving other classics; track day cover; wedding hire cover; driving to work and breakdown cover, plus many more.

Footman James has recently rebranded some of its FJ+ cover options which will now be collectively referred to as FJ Rescue. FJ Rescue includes Breakdown, Mis-fuelling and Lost Keys. The introduction of FJ Rescue has been fuelled by a number of enhancements made to the existing product, for example, Breakdown now includes £80pp for bed and breakfast, up from £50pp, and a customer promise pay of £25 if your vehicle is not attended to within 90 minutes.

Footman James has received great feedback from customers who have used the breakdown service selected from FJ+ and they have been happy to share their experience with us.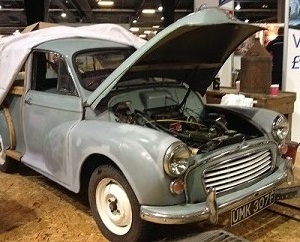 Mr Dutton had a problem with the exhaust on his vehicle which snapped and broke from the front to the back. As he anticipated this might happen, he had already bought a spare in preparation. However, to his surprise, it happened a lot sooner than expected.
"It took less than 20 mins between making the call, to having roadside recovery arrive".
During his drive, he realised the exhaust had snapped and pulled over to safety and made a call to Footman James' breakdown line. He was happy to get straight through to an operator who he described as "very good, professional and made me feel special and not just another caller." He felt the operator really cared and sincerely wanted to help him at the time of the call.

After passing on his details regarding the breakdown, he was advised the recovery team would arrive within 45 minutes to his location. He decided to make his way home which was only 15 minutes away to wait and requested to be contacted when the recovery team were close by.

Mr Dutton was surprised how quickly they arrived - "Just as I got home, I got a call to say they had arrived, so I turned around and made my way back". He was very impressed that they arrived within 20mins of him making the call.
He was familiar with the breakdown team that attended to him and was very impressed with the service. They loaded his vehicle and arrived to the garage within 15 minutes. "The whole process from making his call to getting to the garage took no longer than 40 minutes".

When asked if he would recommend the service he replied, "I will definitely recommend the service" and described the whole experience as "top notch from start to finish".

Mr Thomas also had a problem with his vehicle. He stalled twice leaving his vehicle making noises, so he requested recovery back to his home address.
Mr Thomas phoned the breakdown service because the car kept stuttering and stalling after work one evening. His 1987 Volvo 340 1.7 had a faulty rotor arm and wasn't firing properly. This was the diagnosis given by the technician when he arrived to assist Mr Thomas. 
The breakdown van "came to my assistance swiftly and Steve was on the job quickly, it was encouraging to hear that he worked on a similar car like mine when he started training as a mechanic; this of course, instantly put me at ease". 
"Michael was excellent and got my car going as swiftly as possible. Excellent service all around".
Steve did his best to get the car in reasonable shape for his 26 mile drive home and he got home safely! "The car felt great following Steve's 'tinkering' even though it was only a temporary fix". 

Taking his advice, Mr Thomas replaced all the parts (Rotor arm and HT leads) he recommended to change and 'Bertha' was running perfectly.
Sadly, 'Bertha' is now in the ownership of another enthusiast.