#FJShowUsYourShed the Footman James social competition closes on 5th June
There's still time for classic and automotive enthusiasts to enter our Show Us Your Shed competition, which is looking to find the best enthusiast's garage, shed or workspace, as the final closing date for submissions has been announced as 5th June.
From bijou box rooms to grand garages, the Show Us Your Shed concept has inspired collectors, engineers and hobbyists to submit their unique spaces for consideration. With an extremely impressive array of entries the panel of judges, led by Footman James ambassador and motoring authority Harry Metcalfe, will have a hard time picking an outright winner.
David Bond, Managing Director of Footman James said, "We've seen an amazing array of 'Sheds' so far, from something just big enough to house a single motorbike to multi-car garages. But it's not about how much you've spent, it's about how much passion you can pack into the space available, and we're sure there are still some stunning sheds waiting to be seen."
In addition to the custom made 'Shed Head 2021' trophy, a private artwork will be commissioned from respected automotive artist Stefan Marjoram. Stefan will capture the winner's chosen vehicle in his unique 'Watercolour' style, Stefan's framed A3 artwork will make a welcome addition to the wall of the champion's shed.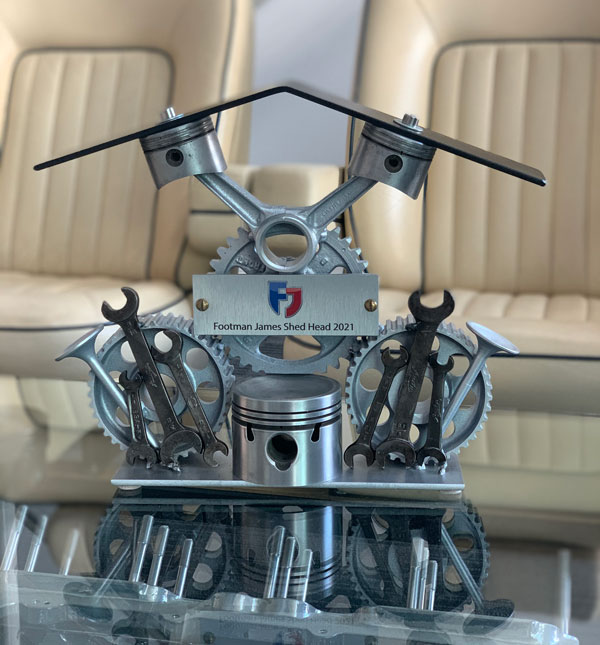 Show Us Your Shed launched in March, to acknowledges the modern 'shed' as a place to relax and recharge, allowing people to indulge their passion, learn a new skill or even just practice mindfulness.
Show Us Your Shed is open to everyone, not just Footman James clients, the competition is easy to enter via the competition form with an image of your space and a few words on why you love it. Entrants can also share their entry on Twitter, Instagram and Facebook, using #FJShowUsYourShed.