06 October, 2017
On the 19th & 20th August, the penultimate round to this year's Footman James Classic American Car of the Year competition took place at the Atomic Vintage Festival, held at Sywell, Northamptonshire. 
This round was taken by a true American car icon; a beautiful red 1957 Chevrolet, owned by Daniel Springall.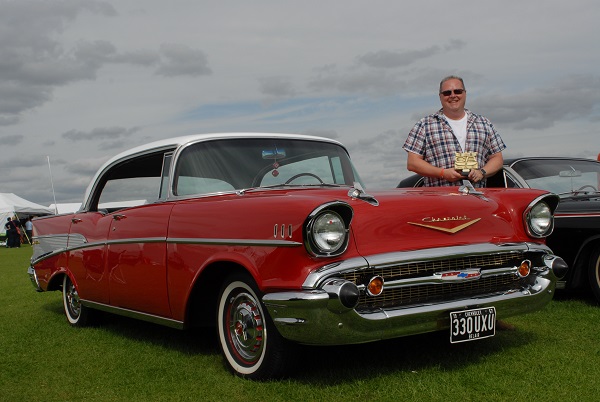 Springall bought the Chevrolet from a dealer in Wisconsin after the car had previously belonged to a 75-year-old who had recently given up driving. In the early 90's the vehicle was restored into the immaculate state that we see it in today.  
This Chevrolet is fitted with a two-speed powerglide automatic transmission and is undoubtedly a beautiful example of this vehicle. With a hardtop styling and polished silver linings, Springall's Chevy will certainly make its mark at this year's NEC Classic Motor Show on the 10th-12th November. 
Past heat winners have included a 1970 Plymouth Road Runner, a 1973 Lincoln Continental Mark IV and a 1950 Nash Ambassador, but this little Chevy will prove to be some tough competition to beat.
Be sure to visit all finalists on the Classic American stand (Hall 5) at the show or to have a sneak peek at another competitor you can check out last heat's winner by clicking here.