Footman James Named As Your Favourite Classic Car Website
At Footman James we're delighted to have been named Britain's most popular website among classic connoisseurs.
The HitWise Online Consumer Intelligence accolade is a testament to the trust you place in us as a reliable source of knowledge in all things classic.
Whether you're looking for upcoming events, vehicle news, wanting to view our photo gallery or take out classic car insurance, the FJ site keeps you bang up to date and ahead of the rest.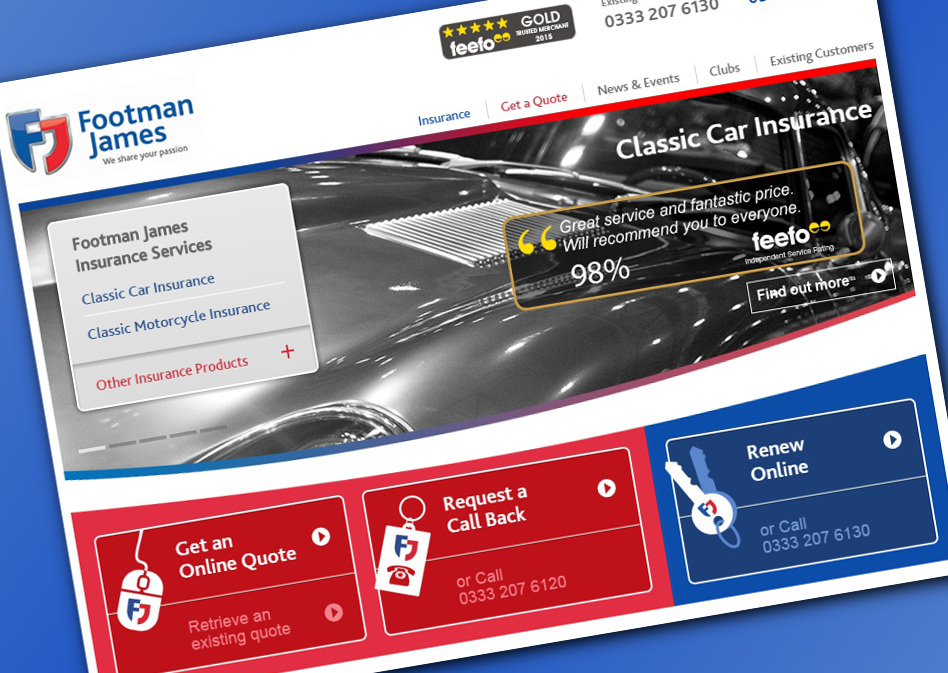 Stat attack
The Experian-gleaned intelligence finds that:
nearly 1 in 3 owners looking for online classic car insurance choose us
the 31.87% of visitors who clicked on our website in July ia more than half as much again as our nearest rival, which attracted less 1 in 5 industry hits
Thank you!
Director David Bond says Footman James' blossoming website presence is yet another part of our commitment and care for classic fans.
He says the site helps us listen, provide and deliver as well as helping to engage with you in response to the changing behaviours of insurance buyers.
Quote & Buy - it's so simple
The popularity boost coincides with Footman James' recent introduction of our new, improved website-based Quote & Buy facility.
What's so special about this service?
it's been redesigned to make it even more simple to navigate
it offers instant quotes
it's always up to the minute
 but, perhaps most importantly in this gadget-rich age, the latest upgrade is compatible with tablet and mobile devices, making it even more user-friendly
But that's not all
Rest assured, Footman James' ever-ongoing quest to improve customer commitment still further doesn't end with digital users.
We've also expanded our opening times from 7am to 9pm weekdays and between 9am and 1pm on Saturdays.