What's in a name?
For years people have taken up the popular idea of naming their vehicle; but why has naming an inanimate object become such a phenomenon?
OUR VAN
At Footman James we recently fell in love with a classic 1987 VW T25, that looked like it had seen better days.
Since then, courtesy of Practical Classics and CBR Motor Bodies, the van has gone under restoration to transform its withered shell into a shiny new coat; all in time for the Practical Classics Restoration Show that returned to the NEC in March.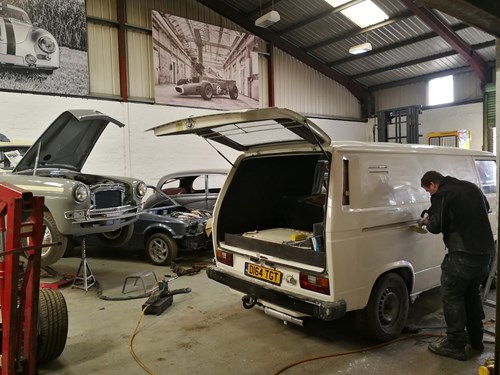 THE COMPETITION
Footman James now wants to join in on the fun and give our beloved classic car a name that suits its personality… this is where we need your help!
We are looking for a name that epitomises our show van. From Betsy to Bernie and Vera to Vernon, you can enter any name that you desire.
One lucky winner will not only have the honour to have named our FJ show van that will be seen by enthusiasts across the country, but will also receive a bundle of classic vehicle prizes!
THE PRIZES
Miniature FJ show van – take home your very own miniature FJ van. A model sized version, decals and all!
Manchester Classic Car Show tickets – come along to one of the classic car events of the year, the Manchester Classic Car Show, with your two free tickets. Pop over to Footman James and see the named FJ show van take centre stage on our stand.
£250 towards your classic vehicle insurance – imagine free insurance for a whole year. One lucky winner will receive up to £250 towards their classic vehicle policy with Footman James. Find more about our classic car insurance and classic bike insurance, along with all our FJ+ add-ons to tailor your own policy.
RAC Breakdown – there's no need to worry any longer about your car not making the full trip as one winner will receive free Roadside, Recovery, Onward Travel & At Home breakdown service provided by the RAC.
Practical Classics subscription - never miss out on any more classic vehicle news, with a free year's subscription to Practical Classics magazine.
HOW CAN I ENTER?
Entries will be accepted from Friday 4th May 2018 and will close on Friday 25th May 2018.
For full terms and conditions, please click here.
Good luck!