Footman James Winner Nets Restored Morris Traveller
The lucky winner in a Footman James competition is now the proud owner of a 47-year-old Morris Traveller worth around £10,000.
FJ put the restored De-Luxe beauty up for grabs in a contest launched two years ago in tandem with Classics Monthly magazine.
This was at our NEC Classic Motor Show stand. Classics Monthly started restoring the machine to the delight of the audience and the end result is being enjoyed today.
All contestants had to do to enter was obtain a Footman James classic vehicle quote either by phone or online.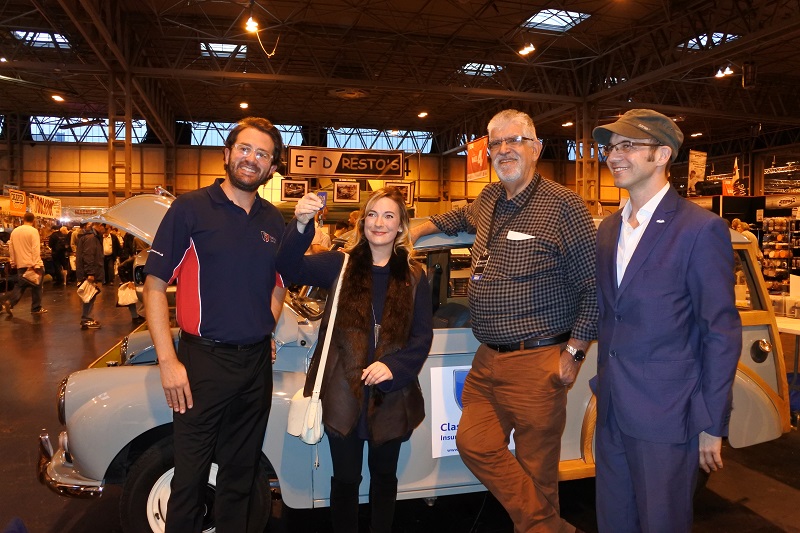 And the winner is...
Step forward Kirsty Thorp, from the Worcestershire market town of Evesham.
She describes herself as "very lucky" and "thrilled" and says she can't wait to start taking the estate car out for weekend spins in the near future.
Kirsty, who currently owns a sporty MG Midget, says she has always been a classic car connoisseur.
She loves the Morris Traveller for its space and "beautiful" design. But the prize did not begin and end there. Footman James also invited Kirsty to attend this month's Classic Motor Show in Birmingham to collect the motor in person.
Potted history of the Morris Traveller De-Luxe's
1968: A car is born. Eight days later it is ferried to the Acton-based Stewart and Ardern garage in London

1993: Its final disc expires
2009: Keith Hibbert, a classics fan, buys it. Extensive repairs include solid floor and wood interior restorations
Recent years: Footman James teams up with Classics Monthly to buy the car. Restorations are started at the magazine's workshop and finished at Charles Ware, the Morris Minor specialist in Bristol
2015: Kirsty receives the Traveller with the original 1968 engine incredibly still in place after valuers put a £10,000 price tag on the car
What the expert says
Director of Footman James, David Bond, expressed his absolute delight at revealing the winner's identity.
He is confident "young enthusiast" Kirsty will enjoy several years' enjoyment with the vehicle and wants to hear all about her adventures.
Mr Bond says the restoration has not been as uncomplicated as everyone would have hoped.
But the majority of restoration projects are like that, he says, and they ultimately got the right result.
Mr Bond congratulated Kirsty and thanked Charles Ware and Classics Monthly.
Be sure to check out our photo gallery showing the full restoration process!