Footman James Wins Towergate's Retail Team Of The Year Award
Footman James is proud to have won Towergate's Retail Team of the Year award. The CEO Club rewarded outstanding individuals who have performed exceptionally well and made a difference in the business.
The celebrations took place on February 3rd at the prestigious restaurant The Savoy in London, where employees enjoyed good food and good company in a great location. 
Julia Attwood, Footman James' Event Co-ordinator commented: It was a lovely evening and an honour to be recognised for the job I love doing. It's not every day you get to go to the Savoy for dinner. The evening was very relaxed and thoroughly enjoyable. It was great to mix with other colleagues and senior management from across Towergate, hearing their stories of success and learning about the other areas of the business.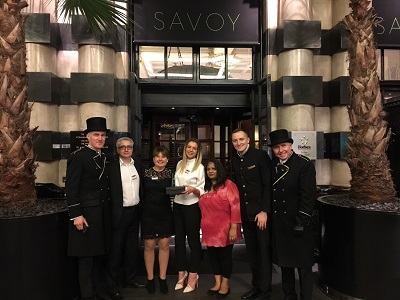 Gita Patel, Account Handler mentioned: It was a great evening and I managed to stay sober. I enjoyed meeting different people and the atmosphere was great.  You were made to feel very welcome and it was quite overwhelming.  It was a good idea to put us out of our comfort zone and be seated by people you didn't know.  I didn't expect to be sitting opposite James Tugendhat. Speaking to some people was nothing like I expected, very down to earth and easy to talk to.  I wish I could name them but I have terrible memory remembering names. It's a great way to be recognised in this way and to celebrate it at The Savoy was a truly great experience - fantastic venue and fabulous food.