Ford Mustangs Resurrected as Incredible Wrist Watches
Old Ford Mustangs are being lovingly repurposed and given a new lease of life thanks to the efforts of REC Watches, a Denmark-based company that salvage the scrapped cars to turn them into stunning handmade timepieces.
The company only take in cars that are beyond any hope of restoration, ensuring no recoverable classics are used in the production process. The founders, Christian Mygh and Jonathan Kamstrup, roam salvage yards all over the world looking for wrecked and salvaged Mustangs they can work with.
"I'm not cutting up Mustangs. I'm bringing Mustangs that are beyond repair back to life as a watch."
-Christian Mygh, Co-founder of REC Watches
Once a suitable model has been found, the company takes time to do in-depth research in an effort to trace the vehicle's history; speaking to previous owners directly to collect pictures and tales of the donor car's history. This information is then turned into a bespoke video they produce for every watch that reveals everything they know about the car that helped to produce the unique watch.
"Most people would just see a pile of metal, a ghost of a Mustang. We see something completely different – the soul of a car and a story that needs to be told."
-Christian Mygh, Co-founder of REC Watches
The watch itself also aims to immortalise the donor car, proudly displaying the VIN and year on the face. The rest of the watch is also designed to take cues from the Mustang that made it, with numbers and hands mimicking an instrument cluster and a fuel-gage inspired power dial to display battery life. It's clear a lot of care, effort and reverence goes into each of these watches and each looks visually unique thanks for variances in the materials.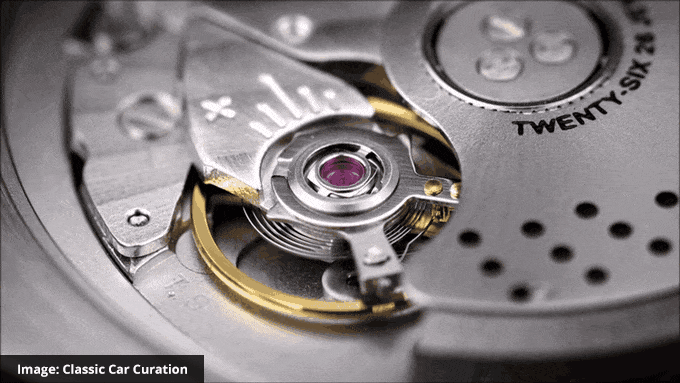 For the most dedicated Mustang enthusiasts, REC Watches also offer a rather unusual service; they'll create an entirely new watch for you based on parts you donate yourself. This is something that was taken up by World Champion Drifter Vaughn Gittin Jr., who now owns a watch custom-built from his World Drift Series Ford Mustang RTR.
This level of craftsmanship and bespoke service comes at a cost, with the Mustang-inspired P-51 collection starting at almost £1,200. The range includes three styles, with another in the works based on Vaughn Gittin Jr's race car. REC Watches also aims to expand into Porsche and Minis with watches made from iconic cars such as the Mini Cooper and 911.
You can learn more and see the Mygh & Kamstrup working on these watches over on YouTube or via the REC Watches website.