Goodwood Festival Of Speed Theme Announced
Goodwood Festival of Speed organisers have given classic car connoisseurs a welcome taste of summer in the week winter officially comes to Britain.

They have announced the theme for June's four-day event. Full Throttle - The Endless Pursuit of Power will be a celebration of history's most revved-up racing cars and motorbikes as well as the stars behind them.
Our top picks
The classic car showcase, which runs from June 23 to 26, includes:
A James Hunt tribute: The 1976 F1 Grand Prix champion is fondly remembered 40 years after his greatest triumph in tandem with McLaren. Hunt was a daredevil on the track and a hell-raiser off it. He was only 45 when he died of a heart attack in 1993. But few British racers have evoked more passion and joy.
The 100th Indianapolis 500 commemoration: First staged in 1911, the event is synonymous with US racing. It is part of motorsport's so-called "Triple Crown", alongside the Le Mans 24-Hour race and the Monaco Grand Prix. Graham Hill, Emerson Fittipaldi and Jim Clark are among the icons to have won the race. Its highlights will be remembered here.
The Moss/Jenks Mercedes-Benz: Is there any car more valuable than this colossus? Sir Stirling Moss even got 170mph out of it on some occasions, with stunning typical speeds of 97.9mph - amazing for 1955.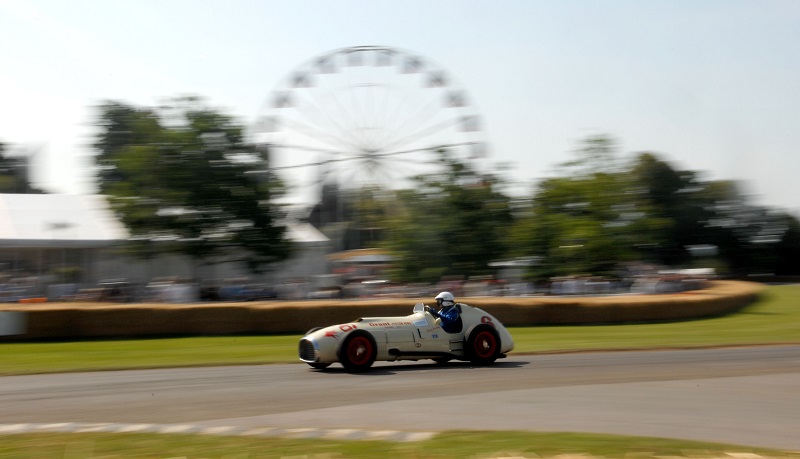 Best of the rest
The Moving Motor Show: As ever, the festival will start with this striking exhibition of cars, concepts and innovations, courtesy of some of the planet's biggest motor manufacturers.
A retrospective looking at 50 years of the Can-Am Serie: A must for lovers of uber-powerful sports prototypes such as the 1980s Grand Prix motorcycles and delightful dragsters.
Goodwood Revival reveals driver tribute's identity
But that's not all. Goodwood has also revealed the identity of next year's driver tribute for its three-day Revival event.
The festival, which runs from September 9 to 11, helps to recreate a golden age of racing, celebrating the days when Goodwood was actively used as a race track between 1948 and 1966.
Attendees are invited to join in the spirit of the event by dressing up in classic racing gear.
Jack Brabham is the racer honoured in the 2016 tribute. Sir Jack is unique in that no other driver has ever won the world F1 title in his own motor.
The legendary Australian was a regular at the West Sussex circuit, where he could often be found testing and racing his cars.
The three-time champion died last year, but he is remembered next year with a gathering of the sports cars, saloons and single-seaters which graced his career.