Grandfather reunited with vintage Austin sold 55 years ago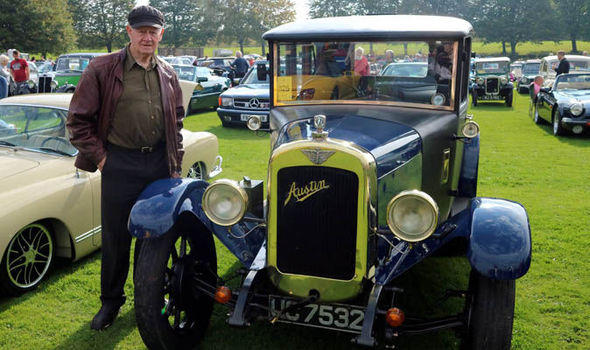 Photography by North News
An 80-year-old man got a welcome surprise at a classic car exhibition, after being reunited with a vintage motor he sold in 1962.
David Young came cross the 1928 Austin Heavy 12/4 by chance at the Beamish Museum in County Durham, over half a century after parting ways.
Speaking to the Daly Express newspaper, the grandfather said: "I was amazed. I thought it must have been long gone but it was overwhelming to see it."
Unforgettable
The Beamish Museum had the blue Austin listed as a 1927 model, but David, a former Draughtsman from Sunderland, identified some of the classic's unique characteristics.
"I recognised features like blue silk roller blinds that I remembered well and the same rear lights that I fitted," he told the newspaper.
A search on its number plate UC 7532 confirmed his suspicions, and David's name was listed on the Vintage Austin Register as a previous owner.
'The haunted house'
As a 23-year-old in the RAF, David spotted the car surrounded by straw and livestock on farmland at Cotherstone, Teesdale way back in 1960.
He bought the car from the farmer, paying just £30 for it.
Desperate to see the back of it, the farmer's wife even gave David 10 shillings for petrol to move it off their land.
During his two-year ownership, the creaky Austin was dubbed "the haunted house" because of the strange noises it made, with David recalling how its brakes caught fire and its doors often flew open.
As an enthusiast of vintage automobile, the Austin is not the only classic the pensioner has owned. He's had around 30 other retro motors over the last five decades, noting his two favourites as a 1999 Saab and a 1934 Rolls-Royce.