12 November, 2014
Here at Footman James, those in our workforce are far more than just experts in all things classic car insurance… we're pioneering fundraisers as well.
And one of our colleagues is now taking on (what he hopes will be) a very hairy challenge in the name of charity this November.
Think of it as Movember with a twist. Instead of growing a moustache, as recent tradition dictates, David Hingley, our Performance and Planning Leader, has agreed to grow his hair for the first time in 10 years.
Close to the heart
Dave is raising funds for Dudley-based Mary Stevens Hospice, which provides palliative care to the community and supports adults who have non-curative illnesses such as cancer and multiple sclerosis.
It's a cause that's very close to his heart, having sadly lost his father to cancer last month, and he would like to thank everyone at the hospice for looking after his dad during his last few weeks, by raising as much money as possible.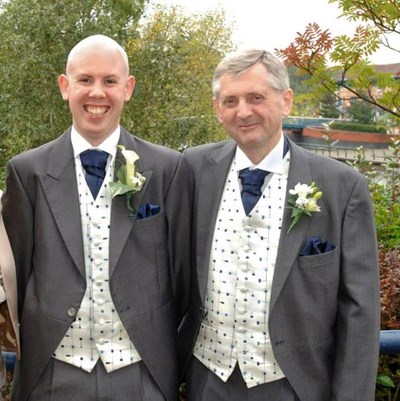 He has set himself the target of £1,000 - and is already well on course to achieving it. Everyone at Footman James is backing Dave in his quest and we're confident he'll reach his goal.
Director David Bond is hoping people will dig deep and turn out their wallets.
"It has been a sad and reflective time for him since his father passed away but is testimony to his father's memory and Dave's attitude to ensure something positive comes from it," he said.
"I would like to encourage people to give generously for such a good cause."
Every single penny of the money raised will go towards helping more patients and their families in similar situations.
All the services at Mary Stevens Hospice are provided free of charge to those who need them throughout the Dudley borough, as well as parts of South Staffordshire, Wyre Forest, Sandwell, and Hereford and Worcester.
Hair today...
Dave has been bald for the best part of a decade, so admits it's going to be a shock to the system to have hair once again.
"It has always been a standing joke in my family that I should grow my hair back and I had always refused; however, as this is for charity I thought it would be a great way to raise money," he commented.
"I know that my Dad would be very proud of what I am doing and that makes it all the more worthwhile."
You can find out how to support Dave's cause by visiting his JustGiving page.