Harrison Ford Catches The Jag Bug
Harrison Ford has been out and about showing there's nothing more therapeutic than driving a Jag.
The Star Wars and Indiana Jones actor was spotted returning to near full health on a spin around Los Angeles - just five months after surviving a plane accident.
Ford, 73, famed for his handling of the Millennium Falcon during the Star Wars movies, showed an equally assured touch at the helm of his 1955-built Jaguar XK140.
Said to be worth 150,000 dollars (over £95,000) when he bought it, the open-top Jag ferried Ford around LA's Brentwood neighbourhood before he filled her up at a petrol forecourt.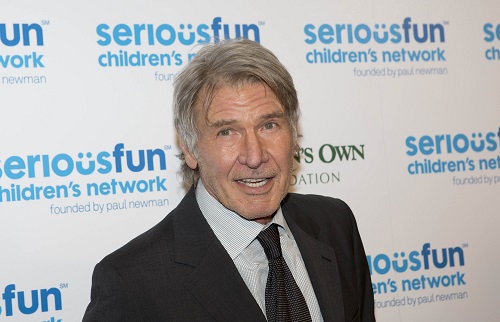 Ford is still recuperating from March's accident in which he broke an ankle and his pelvis. He crash-landed his single-engine aircraft on a Californian golf course.
1955 Jaguar XK 140
Few motors covered by classic car insurance give the same sense of exhilaration and freedom of spirit as this beauty.
It was crafted during the mid-1950s when Argentinian Formula One driver Juan Manuel Fangio - El Chueco or "the bow-legged one" - was dominating the Grand Prix scene in a golden era of racing.
The car was an upgrade on the XK120. Improvements included better brakes, extra interior space and more suspension travel. In addition, the previous lever-arm design was replaced by telescopic shock absorbers.
The machine hovered around the 120-125mph mark (193-201km/h) at best with 0-60mph acceleration in around eight-and-a-half seconds. This was pretty hair-raising for the time.
They went out of production in 1957 after a distinguished three-year spell in the spotlight.
Actors and their Jags
Ford isn't the sole member of the Jag-loving acting club. All the below share the same passion.
Patrick Stewart (XJ-S 12-cylinder): little is lost in comparison with the Starship Enterprise's warp-drive when the Star Trek actor takes out his 'monster' of a car. The Captain Jean-Luc Picard star says driving it is one sport you are allowed to take part in sitting down as everything else disappears in a cocoon of concentration.
Shahid Kapoor (custom-made): the Bollywood star should easily stand out from the crowd in this brilliant postbox red head-turner. The Haider heart-throb paid a reported 15 million rupees (£147,000) to land a Jag to his own specifications.
Tom Conti (E-type): the 73-year-old Whose Life is it Anyway? actor's ardour for fast, classy cars has seen him own an array of classics over the years, including a stunning E-Type Jag.
It's not just acting celebrities who catch the Jag bug, however. One Direction singer Harry Styles, talent show judge Simon Cowell and comedian Michael McIntyre all own Jags.
What are you waiting for?