Have Your Say on Classic Awards
Calling all classic car connoisseurs and industry staff!
You've been invited to nominate your favourites for one of the most prestigious nights in the historic car awards calendar.
The fifth edition of the International Historic Motoring Awards (IHMA) will be staged at a special gala dinner this autumn where the winners will be announced.
One of the most eagerly-awaited prizes on the night is the Footman James-sponsored Club of the Year award, with several of our nation's favourite car clubs all gunning for glory.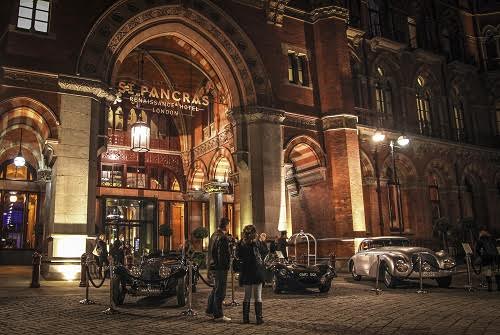 The awards annually pay tribute to the very best in the industry across a wide range of sections. There are 14 categories up for grabs and you can make your submissions for all but one.
How do I nominate?
Simply fill-out this online nomination form - you've got until October 1 to get your recommendations in.
The only exceptions are for Car of the Year, which has to be in by September 1, and the Lifetime Achievement award, which the IHMA panel of judges and organisers will decide.
For the Car of the Year gong, you'll get not only the chance to cast your nomination but also your vote, once a shortlist is published.
So who's on the panel?
Well, it's like a who's who of the classic motor world.
It includes:
Derek Bell (Le Mans endurance driver)
Jochen Mass (former sportswear world champion)
Peter Stevens (car designer)
Dave Kinney (New York Times and Automobile car journalist and historic collector)
Dr. Franz-Josef Paefgen (one-time Bentley chairman)
Shiro Horie (Japan-based Octane's editor-in-chief)
What are this year's 14 categories?
best car of 2015 (held by the Shelby Cobra Daytona Coupe CSX2287)
the Footman James -sponsored Club of the Year
best restoration
best motoring event
lifetime achievement
best industry supporter (currently held by Mercedes-Benz Classic)
best tour
best specialist
best motorsport event (Le Mans Classic holds this one)
best rally
best collection or museum
best publication
best race
best personal achievement (held by Norman Dewis, the Jaguar legend)
Why not see the awards yourself?
In a short space of time the IHMA gala has won a reputation as one of the places to be in the classic car inner circle.
The black tie dinner starts at 7pm on Thursday, November 19 at London's opulent St Pancras Renaissance Hotel. 
Tickets, cost £180 per head. See you there!