Can You Help Restore Classic Record-Breaker To Former Glory?
You can help engineers restore one of Britain's most iconic classic cars to its full glory.
The National Motor Museum is calling on classic connoisseurs to help raise the £30,000 its mechanics need to construct from scratch a fresh gearbox for the priceless Sunbeam 350hp.
The quicksilver machine helped propel Sir Malcolm Campbell to 2 of the 3 land speed records it set in the 1920s. 
The appeal
Doug Hill, the Beaulieu museum's chief engineer and manager, is a veteran of restoring classic motors. He says the gearbox has traditionally been the Sunbeam's weak link.
It was lost after the Second World War after being removed. The replacement is one more used to action in a humble van. Put simply, this Albion 35hp gearbox just isn't designed for such a souped-up machine.
In fact, it was only meant to take a fraction (10%) of the oomph the Sunbeam's engine produces.
In addition, the modified braking system means the gearbox fitting seriously undermines the Sunbeam's brakes.
So a new gearbox is required. Unfortunately for Hill and his team, there's no blueprint from which to work.
And the journey will not end with the gearbox. It's just the latest chapter in the quest to restore the Sunbeam to its 1920s heyday, speed and all.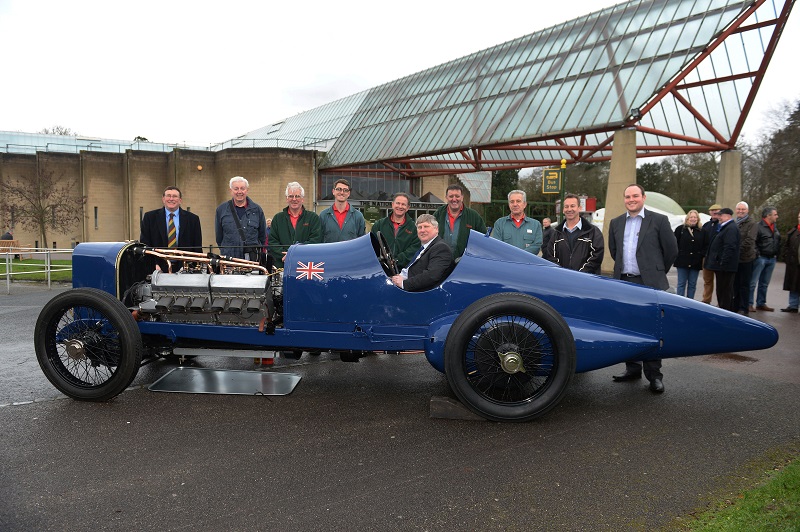 Long-term work includes:
2 exhaust pipes
fresh seat
fresh upholstery
re-made back wheel spats
re-made nose cone
The history
1920: the 350hp is built by the Wolverhampton-based Sunbeam marque
1922: Kenelm Lee Guinness pilots it to a new land speed mark of 133.75mph at Brooklands. Later this year Sir Donald Campbell falls in love with the machine after borrowing it for speed trials in Saltburn
1924: Sir Donald sets a new land speed record (146.16mph) at Pendine Sands, Wales, after purchasing the motor. This follows two previous record runs that were refused on technicalities. The car has a new name (the Blue Bird) and a fresh colour (blue)
1925: Campbell returns to Pendine to raise the benchmark to 150.76mph
1957: Edward, Lord Montagu brings the car to Beaulieu's museum. It has fallen into disrepair after passing through several owners since Campbell sold it. Lord Montagu gets it back to full working order
1962: it enjoys its final outing for over half-a-century at Goodwood
1993: the car suffers a setback when, during a fire-up test, a clogged oilway into the engine makes it seize and the rod break free, hitting other nearby components. Museum visitors later clearly see a gaping engine hole where the con-rod and piston has escaped
2014: museum engineers completely overhaul the car's mechanics. Finally fired-up once more, it stars at the Paris-based Retromobile show and runs at
Goodwood's Festival of Speed
2015: 90 years since its record run, July 21 fittingly sees Don Wales, Campbell's grandson, get behind the wheel during a low-speed demo at Pendine
How can I donate?
There are two ways: