03 March, 2015
It's hard to describe to anyone the passion once felt for an annual hill climb race that was last run 48 years ago.
With Brian Lee, though, you don't have to.
For Brian is a veteran of the Chateau Impney event in Droitwich Spa, Worcestershire.
When he heard that the event was being revived this summer, he contacted race sponsor Footman James to share his reminiscences with the world.
Brian, now 72, responded to his classic car insurance broker's newsletter which asked customers for their interesting memories of bygone Chateau Impney sprints.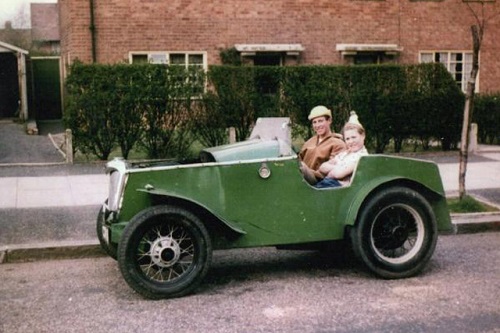 It was once one of the most eagerly anticipated entries in motorsport diaries throughout the land.
Brian's memories
He was a mere 17 when he participated in the event in 1959, a far-off time when:
- Harold Macmillan was Prime Minister
- Elvis and Cliff Richard ruled the pop charts
- A typical UK home would set you back £2,507
- Around 14% of properties were without inside toilet facilities
- Margaret Thatcher first became an MP (for Finchley)
And, of course, there was no internet then, so no emails. Hence, Brian, then a Wychbold farm worker, only got to learn about the race as word spread around the area.
He competed in his Ford 8 Hill Climb Special (1937), calling the spectacle simply "amazing".
Brian recalls hundreds of contestants rushing about the sharply inclined then 550-yard course at around 50mph.
The self-confessed "petrol head" had motoring in his blood from an early age. Brian recalls getting into trouble with his mother for using the kitchen table to strip down a motor engine and spilling oil everywhere.
Brian today
Nowadays Brian lives in Oldbury, West Midlands. And his love for classic cars hasn't diminished.
In fact he owns three of them:
- "Garfield", his Morris 1000 van (1972)
- An XJ6 Jag
- A Morris Minor with four doors (1970)
He organises motor rallies and tries to attend as many shows as possible. Brian is also the Minor LCV Register's treasurer and secretary.
2015 - a new start
July 11-12 (7.30am-6pm) is the weekend which sees the revival of motor sport at the venue.
This came about after new owners took over the classy venue three years ago. They hope to restore the venue's motor sport heritage.
About 200 racers in pre-1967 motors across 19 categories are likely to brave the expanded, testing 1,000-yard course.
As many as 10,000 classic connoisseurs are forecast to make the trip to the Worcestershire venue.
But the event will be more than a hill climb. Organisers also plan to put on a classic motor auction and a special trade fair.
Visitors can get 10% off tickets if they order online here before June 30.
What the experts say
Footman James director David Bond said that Brian's recollections lend a true feeling of classic fans' "passion" and "timelessness".
Mr Bond predicts that the camaraderie of earlier events' will "infuse" the revived event.