Janis Joplin's Porsche Is Way Out, Man
You might well expect a legendary 1960s psychedelic soul singer's classic car to be, well, psychedelic.
But a first glimpse of Janis Joplin's Porsche 356C is guaranteed to raise even the most grounded of eyebrows.
That's why experts expect the 1600 Cabriolet to be in big demand when it comes up for auction later this year.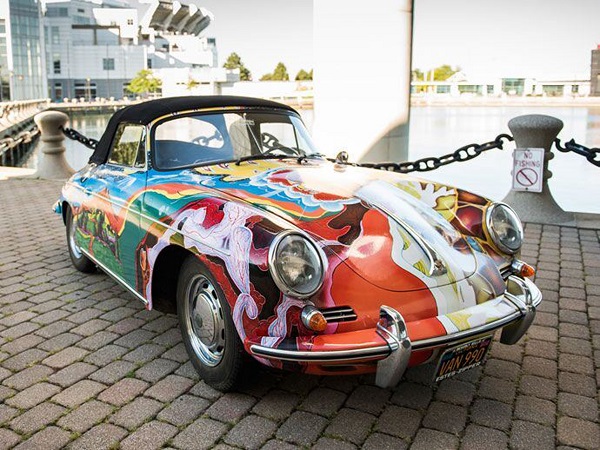 What's so good about it?
Individuality: Even in a decade where distinctiveness seemed the norm, this vibrant motor stands out from the crowd.
Joplin got her used car customised to depict the universe's life story, including pictures of jellyfish, butterflies and even the singing star herself.
History: the Porsche became synonymous with its equally surreal owner in 1960s San Francisco.
Joplin's Porsche - a potted history
1964: the car is built. Joplin later buys it second-hand and it ferries her around the Californian city on a daily basis. But first she asks roadie and friend Dave Richards to radically alter the existing simple, plain white paint scheme. The motor becomes a magnet for her legions of fans. She always returns to find one or more notes penned by followers under her windscreen wipers.
1970: the Porsche remains in Joplin's family ownership after her premature death. Albert Grossman, her manager, is one of the beneficiaries, driving it and lending it out to visiting friends and relatives.
Start of the 1990s: the Porsche enjoys a restoration with painstaking attention to detail, leaving it in exactly the same condition as when Joplin first customised it.
Janis Joplin - a potted history 
1943: born in the Texan city of Port Arthur
1966-68: sings with Big Brother and the Holding Company, a psychedelic rock group, with whom she enjoys the smash hit Piece of My Heart in the final year of their collaboration
1969: embarks on a solo career
1970: dies aged 27
1971: her single Me and Bobby McGee posthumously gets her to No.1 in the US Hot 100
Where can I bid for it?
The date: The evening of Thursday, December 10
The place: RM Sotheby's 10th-storey galleries in New York, 1334 York Avenue, New York 10021 US
What the expert says: Ian Kelleher, RM Sotheby managing director, says Joplin's classic is undeniably among history's most significant Porsches. He says this "fantastic" machine cuts across all pop culture, art and social movements and is on a par with Joplin herself as a "stunning" ground-breaker
But be advised: you'll need pockets as deep as your love for classic Porsches and psychedelic soul and blues rock. That's because experts have valued the mind-bending motor at over £260,000.
If you have a classic Porsche, protect your pride and joy with our classic car insurance policies.
Why not join up with other passionate Porsche-fans and find out more about The Porsche club of GB.