Jaguar Land Rover bids goodbye to iconic Defender
With famous drivers including James Bond, the Queen and Winston Churchill, it's been an icon of Britishness for some 70 years.
But now the sun has set on production of the Land Rover Defender, after the last ever model rolled off production lines in Solihull, in the West Midlands on Friday January 29.
A true classic of motoring design, the instantly recognisable steel and aluminium body of the Defender has become as intimately bound up with our nation's history as tea and Big Ben.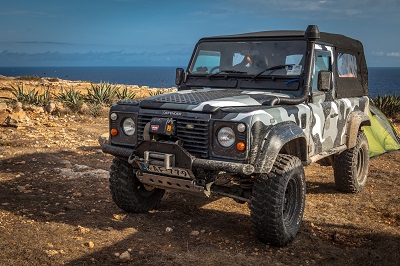 Its rugged and powerful 4x4 drive meant it was as much of a fixture on farms and country roads as it was in the British Armed Forces, which used it in countries including Iraq and Afghanistan.
Great and good behind the wheel

Last week, current and former employees of the Jaguar Land Rover factory gathered to say one final goodbye to the machine as tools were downed on production.
More than two million Defenders have been manufactured since the first models hit the roads in 1948. And many of these early vehicles have even survived to this day, thanks to their incredible durability.
Since then the machines have popped up in some of the most far-flung corners of the globe, and had some memorable VIPs behind the wheel, including:
Queen Elizabeth II, who first started using the Defender in 1951 at a parade held to honour the Royal Air Force in Hyde Park.
James Bond. It's also had starring roles in many of the best-loved Bond films of all time, including most recently in Spectre, in which it was driven headlong down a mountain in an edge-of-your-seat car chase.
Winston Churchill also had a Defender, which was reportedly auctioned off in 2012 for £129,000.
Inspired by the American Willys Jeeps seen during the Second World War, early models were intended to be used as great all-round off-road vehicles by farmers and industrial workers.
Unique designs for one-off models
But the Defender's unique looks were irresistible to many ordinary motorists too, while there have also been many special variations on the original theme.
One such creation was the landmark 2,000,000th model, which among other innovative touches bore a map of Red Wharf Bay in Anglesey, where there the first design was originally conceived, engraved into the wheel arches.
It was sold at auction late last year, earning a whopping £400,000 for the International Federation of Red Cross and Red Crescent Societies (IFRC) and Born Free, a charity that helps to rescue animals.
Now that goodbyes have finally been said to the Defender, which in its twilight years reportedly struggled to meet modern safety and emissions standards, a scheme has been launched to keep its memories alive.
The heritage programme will see restoration projects carried out on a batch of early Land Rovers, which will then be put up for sale in July.
It's sure to help cement the Defender's place in the history books, now that it's driven off into the sunset for the final time.