First production Land Rover goes on display in London
The first production Land-Rover, JUE 477, has gone on show at the prestigious Royal Automobile Club on London's Pall Mall.
While HUE 166 recently found fame as the world's oldest Land Rover, this shabby classic is the marque's first production model and was once a member of the works' development team.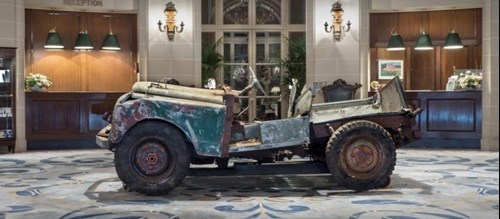 A step back in time
Spending two years in the Solihull site, the vehicle was first registered in 1950, after being sold to Professor McEwen of Newcastle University.
The 4x4 then went on for a career in agriculture, being picked up by farmer David Fairless, who was scouting for a tractor for his Northumberland farm, rather than a second-hand Land Rover. 
It was then left to deteriorate, before being spotted by some classic enthusiasts. Mr Fairless brought the lovable Landy out of retirement to make a brief appearance at Land Rover's 50th birthday bash at Shugborough Hall, way back in 1998.
After its five minutes of fame, the farmer tucked the Series 1 back into its Northumberland barn.
Some two decades later, and the somewhat dishevelled vintage is back out celebrating, this time at the marque's 70thcelebrations at The Royal Automobile Club on Pall Mall, in London's affluent St James area.
To be brought back to life
Despite looking every bit of its 70 years, the four-wheel-drive classic is guaranteed a bright future, and a decision was made to find a new owner, in a bid to guarantee its long-term future.
This landmark example will now be subject to a sympathetic restoration that will preserve its remarkable past, prestige and patina.