Land Rover Legends Award Shortlist
Voting has now closed for the Land Rover Legend award.
We had been asking owners to submit their favourite story about their Land Rover, with the chance to be crowned the winner of the Footman James Land Rover Legend Award.
The winner will be presented with the award at the Land Rover Legends event on the 26th-27th May 2018. The lucky winner will also be interviewed at the event and will see their beloved Landy displayed on the Footman James stand. The prize also includes a pair of VIP weekend tickets, a feature in the programme and Bicester Heritage goodies.
Here are your finalists.
The Footman James Land Rover Legend Award Finalists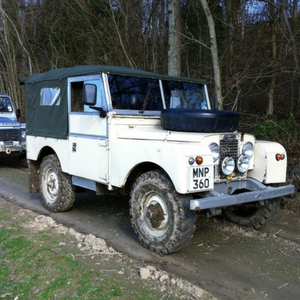 Christian Batterley 1954 Series 1
Christian's Landy gained the name Dido around 1973 when his sister, then a baby, couldn't pronounce the name Daisy. Christian's parents had friends in the Midland Rover Owners Club in the late 1960's and were soon bitten by the Land Rover bug. They bought Dido in the early 70s and travelled as a family with her to various Land Rover events – camping, off-roading and visiting Eastnor.
Some of Christian's fondest childhood memories are with Dido. From sheltering under Dido's canopy in the rain at Eastnor during a trial, to sitting in the front 'middle' seat with his sister (parents either side) as they trundled home in Dido with the smell of mud on the exhaust and the caravan behind.
Dido remains a fixture in his family. Christian had his first drive in Dido aged 7 and his son (aged 11) has also now driven her. He's even got hands-on with the crankshaft!
Christian is keen to stress that Dido is working example of a Series One - not original or beautifully preserved but cherished and very useable.
Jack Hutchins 2002 Defender
Jack and his father built this Defender back in 2003 and turned it into a stunning overland vehicle.
Jack's Landy has only done 13000 miles since new, and Jack and his father had originally planned to travel to Morocco in it. However, plans changed and they ended up travelling around the UK green lanes, marshalling a few events and attending a few car shows.
They planned to go to Morrocco again in 2012, but his father sadly fell ill with cancer in 2011 so the trip was cancelled. Jack's father is now all clear from his illness but he has experienced side effects that make it difficult for him to drive off-road with sharp bumps etc.
At just 20 years old, Jack hasn't been able to afford the insurance on the Defender yet for himself - but he plans on saving up so that he can travel to Morocco with his father.
Phil Jefferson 1978 Series 3
Phil rescued Aubrey in 2014 and with the help of a friend, managed to turn her from a knackered old workhorse into the wedding car of his wife's dreams.
Aubrey needed a lot of restoration work. Phil turned her from a truck cab into a full tilt, reworked the interior with a bespoke Exmoor trim interior, resprayed her, added a bespoke steering wheel and gave the mechanics a full overhaul. After all that hard work, Aubrey sailed through her MOT with only 2 advisories just 1 week before the wedding!
Phil says that the ambition was always to use her as the wedding car - "to say I was proud (for more than 1 reason!) is a complete understatement!"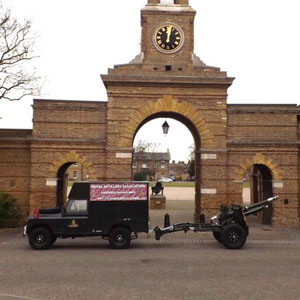 David Hadjicostas 1967 Series 2/3
David is a member of a group of Royal Artillery veterans based in Shoeburyness, Essex.
The group owns and maintains two immaculate WW2 25 pounder guns which they use as living history to promote their association and the heritage of the regiment. They also own a 1967 Series 2/3 drone recovery vehicle which they obtained 25 years ago straight from war stock.
The Land Rover's sole purple is to give former gunners their 'last ride'. They have a specially made catafalque which is mounted on one of the guns and then towed by their Landy.
To date, they have provided over 100 funeral journeys, always free of charge. The gun and vehicle look spectacular and attract attention wherever they go. They consider it a real privilege to be able to support the families of the deceased in this very special way and most importantly, to give the gunners the best send off. David says "our Landy has never let us down once, we look forward to many more years of service to come".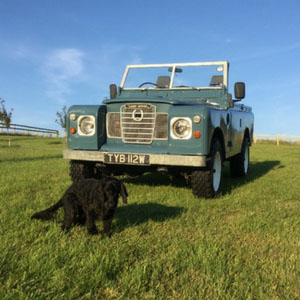 Colin Mannings 1980 Series 3
Colin describes his Landy Bluebell as just amazing. Bluebell has been adapted and copied throughout the lives of Colin and his wife since 1984 - including the first time they met and their honeymoon around the UK. Their newborn daughter came home in her and years later Bluebell also took her to be married.
All of his family, young and old, distant or departed, have shared fond memories and experiences with Bluebell. Apart from the time when Colin was serving away and his Dad swapped her for a horse box!
Not being able to track her down, Colin had given up on being reunited with Bluebell. But then a couple of years later, by chance, he saw her abandoned on a drive in the urban jungle of Winton. Colin bought her back from the owner and a few months later when Bluebell arrived home, she rolled off the trailer and crashed into the garage! Once Colin had spent a few months working on Bluebell, she was back on the road working hard helping Colin and his family to set up an orchard and his daughter's wedding.
Willem Middlemiss 1968 Series 11A
Willem's Land Rover is 50 years old this year and has been in his family from new.
Willem's father, Dr J.L. Middlemiss, bought the Land Rover new in 1968 (as a replacement for a 1957 Series 1). It is a Series 11A with a 2 1/4 Litre petrol engine. It has the original engine and gearbox (both rebuilt) and has covered a genuine 70,000 miles.
His father was a GP in a rural practice and needed a Land Rover to get to isolated farms on the moors in winter. But equally important, he needed it as an accompanying workhorse to his 1914 Burrell traction engine. The Land Rover would pull the 12-ton engine out of its shed which was then was hooked on the back and towed with an A bar behind the engine, acting as a fuel trailer loaded up with half a ton of best steam coal.
On his father's death in 2007, the Land Rover passed to Willem in a somewhat run-down condition and languished under some bushes for a few years. Not having run for a while, the question arose - should it be scrapped or restored? Having been in the family all that time, he couldn't bring himself to scrap it, so decided to have a nut and bolt chassis up restoration. The work was undertaken by Simon Read in Cambridgeshire, started in 2011 and completed in 2014. Now looking pristine, the Land Rover has been put back into service, acting as an accompanying workhorse to Willem's 1915 Burrell traction engine - a very similar engine to his fathers.