15 June, 2015
Ah, the open road! One that stretches from London to Brighton to be exact and one that took Footman James employee and classic lover, Paige Flavell-Wood, two and a half hours to drive in her 1989 Austin Mini Mayfair - going by the name of Mini Penny - during the recent London to Brighton Classic Car Run.
The event, which took place on Sunday 31 May, was the first London to Brighton Run that Paige had taken part in and the first year that Footman James has sponsored it. Commemorating the Emancipation Run of 14 November 1896 which celebrated the passing into law of the Locomotives on the Highway Act – which raised the speed limit for 'light locomotives' from 4mph to a heady 14mph and abolished the requirement for these vehicles to be preceded by 'a man on foot' - the London to Brighton Veteran Car Run has been taking place every November since 1927.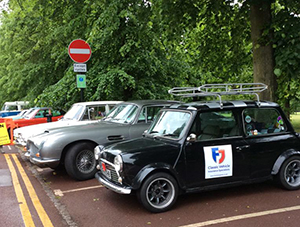 Now organised by GE Classic Motor Events, the London to Brighton Classic Car Run commenced in 1988 and gives owners of vintage and classic cars the chance to take part in their own run on a usually warmer day complete with a self-guided scenic tour to Brighton which changes each year and attracts many regulars. The leisurely drive to the coast passes through some of the South East's most picturesque villages; starting at The Royal Park at Greenwich, a World Heritage site that is home to the famous Royal Observatory and the Meridian Line that marks the boundary on the globe between East and West where participants will have time to explore the fantastic location with breath taking views across London before being waved off with the Union Flag. The finish line is on Madeira Drive in Brighton just next to the famous pier; the day ends with an awards ceremony which includes best period dressed participants, longest distance travelled and a few other special awards on the day.
Mini Penny has her own London to Brighton story! In 2014 she took part – with Paige at the wheel – in the London to Brighton Mini Run organised by The London and Surrey Mini Owners Club.
Paige explained : "We were nearing High Wycombe when all of a sudden we spotted smoke bellowing out of the back window! We pulled over pretty quickly and realised the smoke was coming from the boot, bearing in mind the petrol tank was full and the boot was home to a camping stove, complete with a can of gas! Mini Penny was on fire! We didn't have a fire extinguisher but luckily got the fire under control before the breakdown service turned up. We still made it to London, Brighton and back home again!"
Paige's love of classic cars began at an early age; she grew up surrounded by her grandparent's Land Rovers, Rolls Royces and Beetles. She purchased Mini Penny from her uncle in July 2011, an Austin Mini Mayfair 1989, 998cc, Cooper S Grille, 13" Superlites, Group 5 arches with British Open Classic interior.
An on going project, Paige describes Mini Penny as 'a survivor and a true British classic.' In their first year together, Paige and Mini Penny took part in a charity drive to Land's End and back, raising £500 for West Midlands Air Ambulance. Paige also runs her own Classic Mini Club, The West Midlands Mini Club, based in Dudley, the home of FJ.
Paige concluded: "I will definitely be taking part in the London to Brighton Run again; it was a fantastic experience to take part in one of the most impressive displays of vintage, classic, sports and kit cars in the country!"
And the highlight of the event for Mini Penny? Parking next to an Aston Martin DB6!