27 January, 2015
A Channel 4 show has hit the jackpot after putting seven classic cars under the hammer - with three of them fetching over twice their predicted value.
For The Love Of Cars' second series will treat viewers to a selection of some of the best-loved golden oldies on the market later this year.
For The Love Of Cars?
Yes, if you haven't seen it before, the programme scours lock-ups and barns across the country looking for run-down treasures to restore.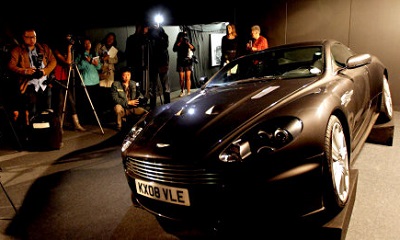 Car connoisseur and Life On Mars star Philip Glenister and Ant Anstead, the world-acclaimed motor designer, join forces to present the show.
So where were they auctioned?
The cameras followed the classics into Coys auction at Birmingham's NEC last Saturday (January 10) as part of the Autosport International racing car event.
The results were stunning, fetching a total of £235,213, inclusive of auction premiums, for the seven star cars under the televised hammer.
The Magnificent Seven (in chronological order)
- Beetle (1958-built, fetched £16,675): This 1641cc-fuelled beauty went for over quadruple its anticipated price. It enjoyed the benefits of a new red-hued leather trim besides Volkswagen expert Type 2 Detective's re-panelling.
- Aston Martin DBS (1969, £166,500): The ace in the pack, fetching more than the other six motors put together and over double its guide price. What makes it so special? Evanta Motors gave it a complete on-camera makeover to make it appear like the olive green version used in the James Bond On Her Majesty's Secret Service film. It sold complete with five-speed manual gearbox courtesy of Tremec and a Vantage spec 4.2 RS Williams engine. Woah.
- Ford Transit MkI (1970, £10,925): Essex-based Classic and Retro's efforts, in tandem with Perkins 4/108 diesel's handiwork, helped push the bidding for this rare short-wheelbase model over the £10,000 mark.
- Fiat 500L (1971, £9,775): Hertford-based MRH workshops came to the rescue after years of this former French-driven model being left outside with only the rain for company.
- Saab 96 V4 (1972, £9,200): The MRH mechanics also came up trumps with this powerful beast, helping to sell it for over twice its predicted price. But it kept the tartan inside and Ambragelb Y8B it was born with.
- Volkswagen Golf MkI GTI (1980, £10,925): Transformed into a Pierburg Golf, remembered fondly for being driven by Swedish rally legend Per Eklund. A close-ratio five-speed gearbox and 1.6 Group 2 motor from Walter Ainsworth gave this machine second wind.
- Rover Vitesse (1985, £11,213): A car museum was taken by this former Grampian M-way Police vehicle's jam sandwich colour combo and the efforts of RobSport International. The Hertfordshire-based SD1 expert's workshop efforts paid off, securing a five-figure sum.