20 February, 2015
Forget your Johnny Depps, your Sly Stallones and Bruce Willises. For film fans of an older ilk there was only one all-action hero.
That man was Steve McQueen.
Steve died in 1980 aged just 50. But his legacy lives on, especially when it comes to his love of all things automotive.
Next month sees an iconic motorbike once owned by McQueen going up for auction. It is tipped to become one of the world's most costly bikes by fetching between 650,000 and 750,000 dollars (£420,000 and £485,000).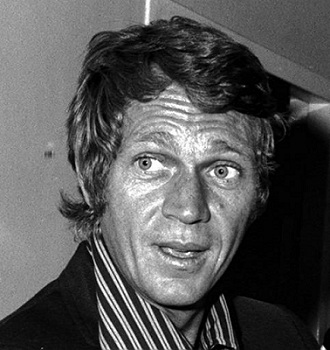 Joerns' history was a brief one as a motor manufacturer; five years to be precise. But in that short time it managed to forge one of motorcycling's most hallowed machines ever: the Cyclone.
What makes the Cyclone so special?
- There are now only six such machines in existence, to our knowledge, from an original manufacturing run of 300
- In 1914 it became the then world's fastest bike. Its 35-second "spin" broke the Excelsior's record one-mile speed mark.
- Most bikes of the day could only hope to achieve half of its 111 mph top speed.
- Its Andrew Strand-designed 1,000cc V2 engine helped to pioneer numerous technologies that are still used today. These included bezel drive-shafts and overhead-cam valve trains.
McQueen and the Cyclone
This 1915 Cyclone formed a key part of Steve McQueen's vehicle collection.
The Magnificent Seven, Great Escape, Towering Inferno and Bullitt actor kept it in immaculate condition, thanks to legendary restorer Stephen Wright.
EJ Cole bought the bike in 1984 - four years after McQueen's death. It is one of 225 classic bikes that Cole is selling this spring.
And history shows that anything once owned by the actor is sure to add huge value to any sale.
McQueen and machines
McQueen's biggest passion in life was his machines.
His classic vehicle stable, besides the Cyclone, included such beauties as the:
- Ford GT40
- Ferrari Lusso Berlinetta (1963)
- Cobra (1962)
- Porsche 356 Speedster
- Jaguar D-Type XKSS
Perhaps closest to his heart though were three racing cars from his Le Mans movie of 1970. They were the Ferrari 512 and the Porsches 908 and 917.
He famously once drove US chat show host Ed Sullivan around the desert at swift speeds in his dune buggy for use in the programme.
Before Le Mans, another McQueen film had already become inextricably linked to another incredible car. His 1968 crime drama Bullitt featured a Mustang GT built by Ford (1968).