Meet The Team - Charlotte Blick
In this edition of Meet The Team we talk to Charlotte Blick, Private Clients Account Handler at Footman James. Charlotte talks to us about how the other half live, what it's like to try and buy a house in lockdown, continually losing at Monopoly - and why insurance can ruin a good view…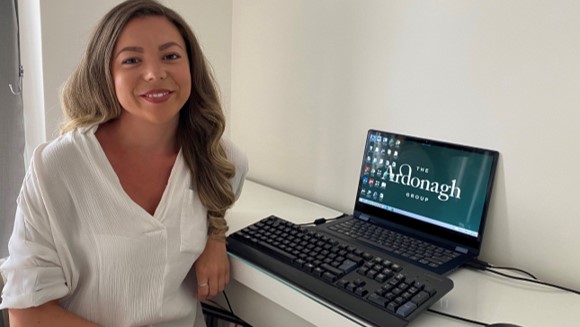 FJ: Hi Charlotte! Where are you working from today?
C: I'm in my bedroom today at my Mum and Dad's house in Halesowen. Although I've been moving around the house a bit for the variety, so some days I'm at the dining room table, and I've been out in the garden when the weather is really nice.
I just sold a house at the start of the year and moved in while the purchase of my new house went through… or didn't go through…
It's gone through now though, and I'm only still here as I'm having some work done to it - now work is allowed to be done again! I don't mind being at home though. At least I've had some company! My brother and his girlfriend are here too, they came back from travelling Australia when they saw how things were heading. It's a lot of adults in a 4 bed semi but we're all getting on okay. The only arguments have been around Monopoly and Cluedo, because my brother's girlfriend, who's never played before, is wiping the floor with us!
FJ: How is everyone getting on working from home?
C: Everyone's doing really well, it's a very supportive team. We've been doing Teams facetime meetings twice a week to catch up – I keep having to remember to brush my hair so I don't terrify people!
FJ: What sort of Private Client accounts do you handle?
C: I focus on high net worth clients. Typically someone will come to me with a big or an unusual risk, like an art collection, or a car collection, and then I'll get under the skin not just of that risk but all their other insurance needs, and then package it all up and build a quote to put everything in one place. I've got a wide range of insurers to go to, with bespoke rates and wordings. Lots of insurers actually like to take on big portfolios because it means they can get a really good picture of a client, their behaviour, and how much they take care of and value the things they're insuring.
FJ: Tell us about some of the things you've insured!
C: Oh all sorts! Every day is very different. And I've had to learn a lot about cars – and do a lot of training with insurers about what they're looking out for and what they need to know. I've done race cars, Aston Martin collections, hyper-cars – so Lamborghinis, Ferraris, Maseratis, a Mercedes 300SL Gullwing (my ultimate favourite classic car), an aeroplane engine, boats, yachts, horseboxes, wine collections, some famous paintings and some very very nice properties
FJ: How has coronavirus impacted your clients?
C: In March things got really busy, and we were taking a lot of calls, direct from clients or through solicitors, accountants and brokers, with people checking their cover and terms and looking to consolidate or save. I think people were being cautious because they didn't know what the impact was going to be on their businesses and finances. Now things seem to have settled down and gone back to something approaching normal.
FJ: What's the best thing about your job?
C: I get to go to lots of events, which I really enjoy. It's brilliant to wander around and see some of these amazing vehicles and get chatting with owners and other enthusiasts. It's a great way to meet potential clients.
Basically what I love is getting a glimpse into other people's lives. You get to hear about some amazing cars and amazing collections. A lot of the time the amount of money you're talking about just doesn't feel real – one McLaren P1 can be worth tens of millions of pounds for instance. At first, it used to make me feel really nervous, but I've got used to it now.
FJ: Are there bits of the job you like less?
C: It can be stressful. I've had to learn to go into microscopic detail about each client's risk so I'm ready to present it properly and answer any questions – and I always have a back-up plan! If I can't get it placed first time round I've always got an option B in my back pocket. I think mostly it's just that you learn what works. I actually started off in the personal lines sales team 6 and a half years ago insuring individual classic cars, and then moved to the multi-vehicle team before coming to the Private Clients team, and all that experience has set me in good stead to do what I do now.
FJ: What do your friends think you do all day?
C: They think I spend a lot of time schmoozing at big car shows or talking about big fast cars!
FJ: What do you REALLY do all day?
C: Well I DO talk about cars a lot, but actually there's far more that goes on behind the scenes - all the calculations, number crunching, analysis, and building the pitch to underwriters. The supercars are exciting – but in reality, the job can also make me a bit boring! I was on a socially distanced walk with a friend the other day and she was admiring some fancy cottages in a valley. I told her the flood risk looked insane. She just rolled her eyes and told me I was spoiling another good view!
FJ: Apart from long walks in the country, what else are you looking forward to as lockdown measures are eased?
C: I really, really want to hug my Gran. We've been delivering food and talking on the drive but I can't wait to actually give her a proper cuddle. And obviously I can't wait to actually move into my new house and do some house warming!
Thanks Charlotte.