Mercedes 300 SL Gullwing Tipped to Break the Million-Pound Mark
"Awesome" can sometimes seem like an overused word in the motoring business.
But a 60-year-old Merc coming up for sale this weekend has no need for hyperbole.
Few classic sports cars on the market are as pioneering, rare or coveted as the 1955 300 SL "Gullwing".
Auctioneers are valuing it from £925,000 to £1.1 million. But experts predict that a bid of more than £1 million will be needed to take home this design treasure.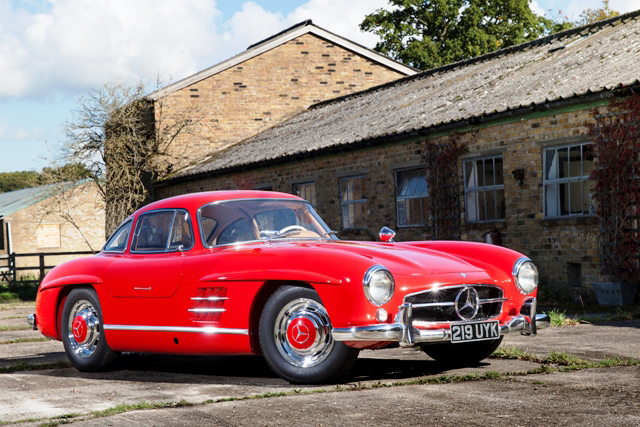 What the lucky bidder will get
A beautifully maintained tan leather interior
A striking fire-engine red finish in tip-top condition that will ensure the driver always stands out from the crowd
Trademark gullwing doors
Why the 300 SL is a pioneer
When it first hit the road, it was then the world's quickest production car at 161mph
No other car had ever benefited from fuel injection until then
It pioneered gullwing doors attached to the top of the motor
The Mercedes 300 SL Gullwing - a potted history
1952-53: Begins life as a racing car
1954-55: Non-racers can enjoy the sheer exhilaration of driving this marvel as a production version starts getting built. Manufacturers describe it as a street race car… with good reason.
1963: Production ends with 3,258 models having been built, split between 1,858 roadsters and 1,400 coupes
2010: The car described as its "spiritual successor" comes into being. Step forward the near-200mph Mercedes SLS AMG Gullwing
More popular than ever
Mercedes 300 SLs have been having a fair bit of success on the auction scene recently, with some even going for around £1 million.
In July a Mercedes 300 SL (1956) sold for £925,000 at Coys' auction at Oxfordshire's Blenheim Palace, while in October a Mercedes 300 SL (1955) attracted a winning bid of 1,375,000 euros (£1,021,000) during the Motorworld Classic in Berlin.
Other gullwing greats

The Bricklin SV-1 (1970s): This Canadian car was futuristic for its time, but production could not keep up with demand. The project ended with under 3,000 being built
The DeLorean DMC-12 (1981-83): Arguably the most instantly recognisable gullwing of them all, thanks to the Back to the Future film franchise
The Tesla Model X (2015): This electric crossover SUV brings the gullwing into the present day
Where can I bid for the gull-wing?
The Historics at Brooklands Specialist Classic and Sports Car auction starts at 12.30pm on Saturday November 28 at the Brooklands Museum Trust in Weybridge, Surrey.
What other cars are up for auction?
A 356 Outlaw from Porsche (1964)
An XK150S Roadster from Jaguar (1958)
A Spider Veloce from Alfa Romeo (1968), valued at between £9,000 and £13,000
A Ford Capri MkIII 2.0 S (1984) priced from £9,000 to £12,000