Messerschmitt makes for Bubbliest Classic Rally
 1953. A year that saw Hillary and Tenzing conquer Everest, the coronation of Queen Elizabeth II and England regain cricket's Ashes after an absence of 19 years.
It was such a momentous year that the first so-called "bubble cars" rolled off their German production line comparatively unnoticed.
But the sub-700cc powered Messerschmitt motors soon gained a momentum of their own. Experts heralded them as the vehicles that would bring cheap car ownership to the masses.
In 1959 the Austin Mini came along and burst that bubble.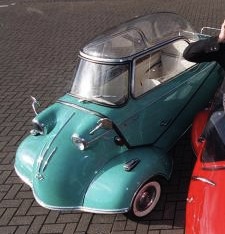 The Messerschmitt's brief reign in the spotlight was superseded by a cheaper, more practical machine which also boasted four seats. The last bubble car was made five years after that.
The Mini went from strength to strength, leaving the German car to soon become the butt of jokes over its less-than-elegant looks.
Still rallying round
Today the passion for these micro motors remains as strong as ever, as evidenced by a Messerschmitt bubble car rally this month.
Saturday August 1 saw Beaulieu National Motor Museum play host to 50 nostalgia-soaked models from as far afield as Germany and Holland.
Several owners of bubble cars first sold in Britain were also out in force. These could be forgiven a smug grin for having the last laugh.
Bubble veteran
One connoisseur who can no longer afford a bubble car, but was treated like a hero at the rally, is Ken Piper.
Ken is a veteran bubble car racer and is currently Messerschmitt Owners Club's (MOC) president.
The rally paid homage to the Portsmouth-based driver, who recalls hitting speeds of 100mph during rally, trial and race wins in these dinky machines.
He admitted at the gathering, though, that he would be scared to look while competing.
Want to join a bubble club?
It's simple. You can either join the MOC or any other microcar club.
Feed your bubble car passion
Missed the rally, or did it whet your appetite for more things bubble? 
You can easily feed that passion because did you know there is an actual bubble car museum here in Britain? Yes, the Bubble Car Museum can be found in the Lincolnshire village of Langrick near Boston.
Just set your journey planner to Clover Farm, Main Road PE22 7AW and you can enjoy more than 50 microcars homed here.
They include the Bamby, Isetta, Bond, Reliant and Frisky.
Adults and children pay £3 and £1 respectively to get in and guests can enjoy recreated shops, a gift shop, cafe and plenty of memorabilia.