mg midget insurance
The Midget may be small but that does not stop it having a large following of enthusiasts.
The MG Midget, produced by the MG division of the British Motor Corporation from 1961 to 1979, holds a big place in many a driver's heart.
At Footman James, we know how much your beloved Midget means to you, which is why we specialise in providing classic car insurance that allows you to make the most of your classic motoring.
History of the MG Midget
MG created its two-seater sports car using the Austin Healey Sprite as a base, although the Midget was quite different in terms of both body and engine.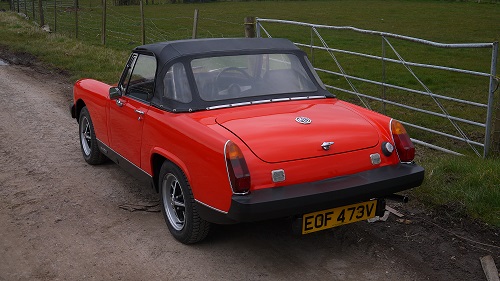 During the MG Midget's 18 year production life it was updated a number of times, including increases to its engine capacity that went from 948cc, in the original Midget, to 1493cc. The most prolific engine is the 1275cc.
When the MG Midget was first introduced it was greeted with open arms by MG aficionados who lapped up this small and inexpensive sports car.
Nearly 230,000 were produced and today MG fans are still enjoying all the Midget has to offer.
If you love your Midget you'll want to make sure it is well taken care of. We specialise in classic car insurance that protects your pride and joy.
Tailor Your Policy
Classics like the Midget deserve the extra care and attention that they need and as classic car insurance experts we recognise this. Over the past three decades, we've listened to our customers and tailored our policies to reflect what classic car owners are looking for when it comes to classic car insurance.
If you are looking for additional benefits, such as breakdown cover and drive to work cover, take a look at our FJ+ cover options.
Specialist Rates for Club Members
With a shared love for classic cars, it's understandable that we've built up relationships with many classic car clubs over the years.
One of these clubs is the the MG Car Club, which is the world's oldest car club for owners of MGs.
They organise regular meets and events around the UK. If you are a member of a car club you could benefit from specialist rates on your MG Midget insurance.
Insure Your Pride And Joy
If you are looking to insure your classic MG Midget, you have come to the right place.
As classic car insurance brokers you can be sure that we have your interests at heart. Get a quote today for MG Midget insurance.