25 February, 2015
It was love at first sight for a Morris Minor enthusiast who picked up a "pristine" Valentine's Day's classic.
Last Saturday's auction saw the brown Minor 1000 model fetch a cool £17,000.
The private buyer was taken by its:
- Low mileage: just 190 miles in nearly 50 years
- Immaculate condition: it had been secreted in a Yorkshire garage all that time
- TLC: the previous owner was so concerned it might get damaged that he instead used a Morris Traveller while the other Morris was moored in Harrogate 
- Novelty "extra": the original receipt from 1968 which showed it cost £656.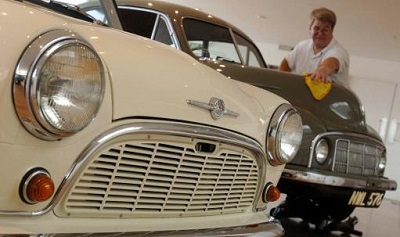 The car was valued at £7,000-£10,000 and attracted attention from as far as New Zealand.
But Ossett's CW Harrison & Son's auction officials saw it far exceed expectations. The firm's auctioneer Fran Hazlewood called the car "unique" and "incomparable".
Footman James and Morris Minors
As classic car insurance specialists, Footman James has forged many close ties with classic car clubs, and few closer than with the Morris Minors Owners Club.
The Derby-based club today has over 14,000 members across the globe with more than 50 branches in Britain alone since launching in 1976.
As members, Morris Minor owners can receive great incentives on their insurance packages, including eligibility for the young enthusiasts' package from the age of 17.
Famous Morris Minors
- "Woody", Roy and Hayley Cropper's 1000 Traveller (1963): The Coronation Street pair shared several adventures in this classic. It was their wedding car, blockaded the street's garage and was once even stolen. The car might be best remembered, however, for the hilarious scenes in which Hayley tried to teach Roy how to drive.
- The 1,000,000th Morris Minor: This iconic, restored beauty went on show at the inaugural London Classic Car Show 55 years subsequent to coming off the Oxfordshire production line. It goes under the hammer next month with estimates varying between £22,000 and £28,000.
- Pick any one from The Borrowers: This 1997 action comedy film, starring John Goodman, featured John Goodman is a Morris lover's dream, with the classic cars popping up everywhere.
- The world's oldest Morris Minor: The Daily Mail discovered this treasure in 2012, reporting how Jock MacKay bought this barn find for £270 in 1973. Now coming up to 88 years old, its 847cc engine gives this Morris a maximum speed on the clock of 40mph.