22 August, 2017

Whilst every Cobra is special, CSX2287 is different from the others – it is the first ever Cobra Daytona Coupe. One of six, it was the first American produced car to take on and rival Ferrari on home soil – and was even once enveloped in flames in Daytona. But somehow it managed to survive.

The car was created by famed American automotive producer Carroll Shelby, who desired beating Italian designer Enzo Ferrari as a creative, rather than a driver, of which Shelby had already managed to achieve for Aston Martin in the FIA World Sportscar Championship in 1959.

Shelby's idea for the car was drawn from a past racer – the AC Cobra Roadster. Whilst this was taking place during the time when American cars weren't competitive on track, Shelby decided to employ automotive designer Pete Brock to streamline and shape the car for maximum speed performance. The car would desperately need to excel on the three-mile straight at Le Mans, which was arguably the most significant race in the championship.

The first Shelby Cobra Daytona Coupe had been born in a shop in Venice, California - CSX2287 – whilst the rest of the cars were made in Italy. Yet, it wasn't until 1965 that Shelby managed to succeed in securing first place, by winning 9 of the 12 events in their class (the first American racing team to do so), beating Ferrari and mythologizing the Cobra Daytona Coupe once and for all.

On 6th November 1965, the CSX2287 prototype was raced for the last time – cementing 23 national and international speed records before Carroll Shelby decided to sell it to toy car company founder Jim Russell for $4,500.

The Daytona was then sold to music producer Phil Spector, who took to driving the car around Los Angeles freeways and streets. It eventually caused Spector to collect so many tickets, that his lawyer suggested that he sold the racer. Though Spector initially wanted to keep the car and improve it, the cost was too large – so he decided to heed his lawyer's advice and sold it to his bodyguard, George Brand, for $1000.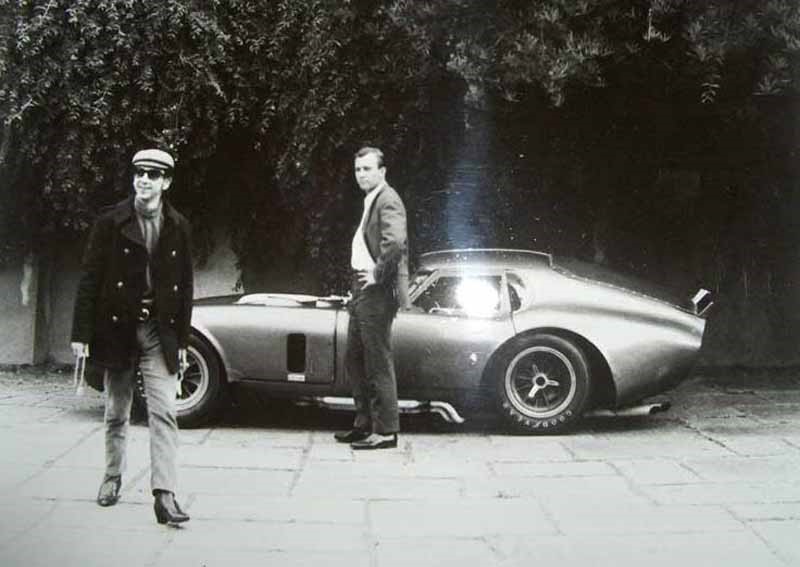 Phil Spector used CSX2287 as a road car in the late 1960s © unknown

But it wasn't to stay with Brand, who passed ownership of the car to his daughter, Donna O'Hara. The series of events that followed gave CSX 2287 an enigmatic status – the Daytona Coupe was concealed somewhere in California, in a storage facility.

Though O'Hara continued to store (and pay rent) on the storage, the car remained hidden for 30 years. Interest in the car and offers arose, but O'Hara refused to sell or even reveal the location of it. O'Hara often denied any ownership or knowledge of the car, even going as far as to rebuff Carroll Shelby himself, who wanted to buy it back. As a result, the car waited untouched from 1971 to 2000.

Even after receiving countless offers for the car, on October 22nd 2000, police were called to a scene in Fullerton, California where a person had set themselves alight under a bridge. This person happened to be Donna O'Hara, who refused to co-operate with police to reveal her name. It then took over a month for her identity to revealed, only after friends had reported her missing.
 


2000 - CSX2287 as she was recovered from storage in California © unknown

After O'Hara's death, the ownership of the Daytona Coupe was called into question yet again. A legal battle between O'Hara's parents, Phil Spector and her childhood friend, Kurt Goss.

It took until December 8th, 2001 for the legal battle to draw to a close. It was decided that Kurt Goss, her childhood friend, was the legal owner of the car. It was claimed that Goss had been called by O'Hara, five days prior to her death, announcing that in the event of her passion Goss was to take care of her personal belongings.

However, O'Hara's mother had sold the car unbeknownst to a neurosurgeon for $4m. She was ultimately required to pay Goss $800k in settlement charges.
On the bright side, the car eventually was secured by a museum, now everyone can view the once concealed Cobra - a part of American automotive history - at the Simeone Automotive Museum in Pennsylvania.