18 September, 2017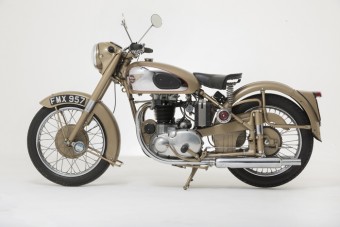 The National Motor Museum has made a stunning new addition to its showcase with a pristine 1953 BSA A10 Golden Flash motorcycle.
The vintage bike has been donated to the museum by its owner, following years of restoration. It forms part of 'The Motorcycle Story' exhibition at Beaulieu in Shropshire.
The museum – a Footman James partner – features various rare and historic collections that tell the story of motoring in the UK, from times of its earliest pioneering to today's advanced automotive era.
A museum statement says: "The 1953 BSA A10 Golden Flash is attracting admiring glances from Beaulieu visitors due to its glamorous gold paintwork and polished petrol tank – but the jazzy colour scheme is not a custom finish and the Golden Flash is exactly as it was when new, over 60 years ago."
A cool refresh
Finished with metallic gold paintwork, the Golden Flash is a sparkling refresh on the A10's pink and black standard colours that date back to its introduction to the market in 1950.
The A10 was conceptualised in 1949 and is the design of Bert Hopwood, who joined BSA from roles at both Triumph and Norton.
Produced by Birmingham Small Arms Company at Small Heath, the post-war model is BSA's first parallel twin motorcycle.
The air-cooled Golden Flash is the  product of three years of design tweaks, and the 1953 edition features rear plunger-type suspension, although a rigid frame was also an option for buyers of the time.
Built as a competitor to the bikes turned out by Triumph, the Golden Flash is aptly named for its signature paintwork and upright 646cc twin-cylinder engine that propels the machine up to speeds of 100mph, a real feat for the fifties.