Dates For Your Diary As Friends Of The National Motorcycle Museum Announce Activity Days For 2016
National Motorcycle Museum (NMM) Friend's Scheme has announced its 2016 activity dates for your diaries. The friend's scheme gives members the exclusive opportunity to take part in some unique activities as well as enjoy benefits such as: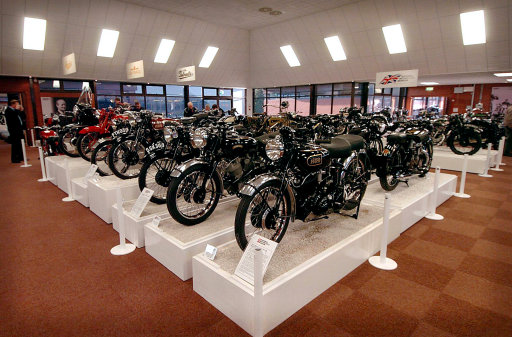 Classic Bike Tours
Try a Classic Days
Workshop Training Days
Joining pack & membership card
Unlimited free entry to the Museum for one year
10% discount in museum shop and restaurant
One free "Bruce Main-Smith" photocopy set per annum (value can be up to £31.00)
Quarterly newsletter
Discounts at a range of selected partners & service providers including perks and privileges at over 4000 Best Western hotels around the world.
The museum is excited to announce some of the forthcoming activity dates for 2016.
NMM Friend's Museum Workshop Training Day
Date: Saturday 27th February 2016
The first Museum Workshop Training Day will be held in the museum's Premier Suite. This is a great opportunity to come and learn from suppliers and partners of the museum who will present various sessions on the day. You can look forward to wheel building with Central Wheel Components, powder coating with Redditch Powder Coaters and Norton race engine preparation with ex-works Norton mechanic and rider Norman White.
The NMM's own restoration team will also be on hand to discuss some "tricks of the trade"!
The Museum Workshop Days are free of charge to friends of the museum as part of the membership.
NMM Friend's "Try a Classic Bike" Day
Date: Saturday 12th March 2016.
"Try a Classic" Day is another exciting day for bike enthusiasts. With further dates to be announced, Saturday 12th March will be the first opportunity for enthusiasts to try a classic bike of their choice. Veteran and vintage machines with lever throttle/hand change (training provided) as well as later machines from 1940s-1960s will be available to choose from.
Members will get the chance to ride a number of laps on the motorcycles from the museum's inventory in a "closed road" environment within the museum grounds.
Morning or afternoon sessions are available with a nominal fee of just £5.00 for friend's scheme members to cover insurance costs.
NMM Friend's Classic Bike Tours
Dates: Saturday 3rd April, Saturday 18th June and Saturday 24th September 2016
There are three dates throughout 2016 set for the bike tours where friend's scheme members can ride some of the most exciting and valuable classic motorcycles from the museum's inventory.
An induction and "off road" training will be given before being escorted by ex-police motorcyclists around the beautiful Warwickshire countryside. The machinery on offer varies from a BSA C15 to a Brough Superior SS100! The hire fee is based on the class of machine which includes insurance costs and lunch in the museum restaurant.
How to become a Friend of The National Motorcycle Museum
Becoming a member allows access to all the above events plus many other benefits. Annual subscription fee detailed below:
Adults 18-65 £29.95.
Senior Citizens 65+ £27.45
Junior 0-18 £19.95
Family (2 Adults & 2 Children) £49.95
Call the National Motorcycle Museum to join by phone - 01675 443311
Join on-line www.thenmm.co.uk, e-mail shop@thenmm.co.uk
Videos of the above events can also be viewed on www.thenmm.co.uk