20 January, 2017
The National Motorcycle Museum features the largest collection of British motorcycles anywhere in the world. And after a lot of work at the end of 2016, they have reconfigured their entire collection for 2017, to make the experience even better for new visitors.
So for you museum veterans, if you think you know the National Motorcycle Museum, think again!
The key numbers
The museum has over 1,000 machines, spanning 3 centuries and 170 different manufacturers. Out of this, 850 are on display at any one time.
To display this huge number of classic motorcycles, the museum houses 5 display halls and a foyer, all full to the brim with displays to please any motorcycle fan.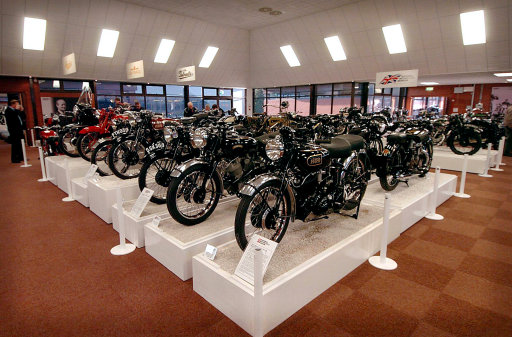 Here's what's happening in each of the display halls this year:
60 Glorious Years
Hall 1 celebrates "60 glorious years" of British motorcycles from 1898 to 1960 – an idea straight from museum founder Mr William "Roy" Richards. See bikes from the close of the 19th century, through to 650cc "twins" from the rocker years, with every bike displayed in chronological order.
Road Motorcycles
Halls 2, 3 and 4 feature road motorcycles in alphabetical order (thanks to their hard work reconfiguring the display).
Hall 2 houses A, B and C (not BSA).
Hall 3 has B (BSA) D, E, F, G, H, I, J, K, L, M, N (not Norton).
Hall 4 has N (Norton), T and R (Royal Enfield).
Competition classics
Hall 5 is home to the A-Z of competition classics, including road race, off road, sprint and dragster machines. Again, this display is now arranged in perfect chronological order.
Special Displays
All of the display halls will also have their own special displays. Here's just some of what you can look forward to this year:
• A tribute to Geoff Duke (Hall 1)
• A display of x22 prototypes (Hall 2)
• A collection of BSA & Matchless machines (Hall 3)
• The finest Norton, Triumph & Royal Enfield machines (Hall 4)
• Sprint bike & dragster world record breakers (Hall 5)
The museum has already announced over 14 special displays for 2017, including temporary displays in the museum foyer (which is free to enter). One of these displays even features Wallace & Gromit!
Find out more about these displays, and everything else on show here.