No MoT Shouldn't Mean No Peace of Mind
On the face of it, not having to have an MOT certificate sounds great news for owners of vehicles over 30 years old.
Besides the expense involved, it will spare such drivers the annual fret-fest to see if their treasured motor is deemed roadworthy.
But the other side of the coin is the safety aspect.
Do you really want to be driving around in a motor, unaware that it might be liable to fall apart at any time?
That's why an esteemed motoring pundit has launched a new initiative aimed at getting your old pride and joy checked – regardless of whether it needs an MOT or not.
Classic Aware
Peace of mind is key to Fuzz Townshend's Classic Aware campaign.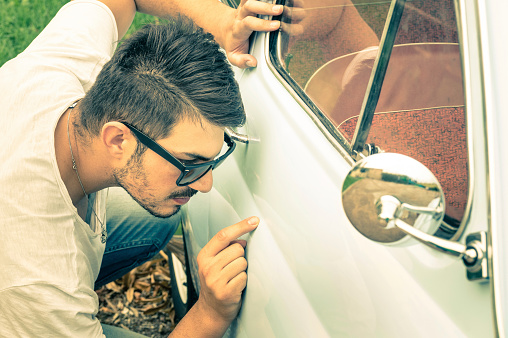 Owners of cars covered by classic car insurance and dating back to before the 1960s are already free from the obligation of having to prove roadworthiness.
European lawmakers plan to exempt more modern historic motors from the MOT. This part of the so-called EU Roadworthiness Directive's regulations are made law in 2018.
But Townsend, a columnist with Classic Car Weekly and presenter of Car SOS, wants classic owners to get ahead of the game.
This means no short-cut DIY testing - unless you're a qualified mechanic - but getting independent experts to check your classic out.
Townsend guestimates the new rules will bring the number of vehicles without MOTs to nearly 650,000.
The new scheme works in two ways.
Owners register their backing for autonomous roadworthiness checks via the Classic Aware website. In return, motorists receive tips and alerts on where and how to get classic cars inspected.
Fuzz launches the new campaign with pedigree, already being active with the existing Classic Friendly initiative. This promotes garages which major in old vehicles, but cannot legally sanction the failing or passing of a car's worthiness to be on the road.
Where the new Classic Aware campaign scores over Classic Friendly is that garages can give a report detailing a car's condition to its owner. This can point out areas which need repairs to make it roadworthy and safe.
The new European rules
The EU is extending MOT exemption to vehicles which are 30 years old or more. This is on condition that they have not been significantly altered. The UK will be obliged to alter its laws accordingly in 2018.
Stat attack
Supporters of the new European laws may point to Government stats which show that classic cars account for only 0.03% of all road accidents.
But Townsend argues that any life lost is one too many and that self-regulating, sporadic inspections would inevitably have an adverse effect on safety.
What they're saying
Classic Car Weekly (CCW) is opposed to the new EU directive. Keith Adams, its editor, admits that most classic owners are very conscientious when it comes to safety.
But he said why take a chance when independent inspections could pinpoint potential faults?