Speedy Range Rover to showcase at new Legends show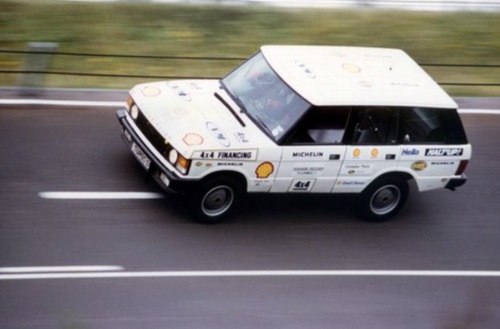 A record-breaking Range Rover is to be the star of the show at a new event paying tribute to an iconic 4-wheel-drive marque.
The Beaver Bullet, famed for breaking all diesel speed records for a 4x4, will be showcased at the Land Rover Legends event at Bicester Heritage over the 26th-27th May 2018.
Record-breaking Range Rover
In response to negative press reaction to the vintage oil-burning Range Rover, the Bullet launched as the first diesel-powered model to maintain a mean average speed of 100mph for a full 24 hours.
The record was achieved at the MIRA test track during a three-day period in August 1986, with two diesel Range Rovers taking on a mammoth 27 endurance and sprint tests.
Designers created a higher-spec model of the Range Rover to compete in the challenges, modifying the car with two racing-type fuel fillers on the lower tailgate and a full internal rollcage.
To reduce the weight for the record breaking attempt, all seats apart from the driver's were removed. A quick-release bonnet catch and pro-spec radio communications were also installed.
The Beaver Bullet put Range Rover diesels on the map, with the model going on to achieve huge sales in continental European countries. However, the success has also 
propelled the performance and refinement of diesel SUVs in the marketplace as a whole – with massive investment into engineering as a result of the Bullet's triumphs.
Land Rover Legends 
The 2018 Legends event celebrates 70 years of the 4-wheel drive marque and is welcoming collectors, preservationists, restorers and enthusiasts to the showcase on Saturday 26th May and Sunday 27th May 2018.
Some of the best examples of the marque will be exhibited, including prototypes and pre-productions, original 4x4s, rare conversions and military models.
Footman James will also be exhibiting the winner of the Land Rover Legends award.
Voting is currently open; it is now your job to whittle six of the judges top picks from Land Rover owners' most interesting stories to one overall winner.
The champion will not only be showcased on the Footman James stand; the winning owner will also be interviewed at the event on stage and featured in the programme.
The prize also includes a pair of VIP weekend tickets and Bicester Heritage goodies.