Recreate the sound of a live concert in your living room
When did you last go to a public space for the sole purpose and simple pleasure of listening to live music? The answer will be months ago, but invest in the right home audio system and you can recreate the experience without buying a ticket. Plus, you won't have to pay a premium to enjoy the best seats in the house.
"A true concert experience requires quality loudspeakers that reproduce the full spectrum of music from the lowest to highest notes and overtones (20 Hz to 20 kHz) without adding their own resonance or colourations," explains Dr Sean Olive, senior fellow of acoustic research at Harman, the audio technology specialist.
"The frequency response of a loudspeaker is the best indicator of its sound quality; when the audio system is designed to reproduce the music without stress or distortion, you will feel as though you are immersed in the same room as the musicians."
To maximise the acoustic potential of your space, Dr Olive recommends using a combination of speakers from the Harman Kardon Citation range. They will need to be positioned around, above and below where you sit to reflect and radiate the music properly. Further advice on setup can be found here, and video tutorials here.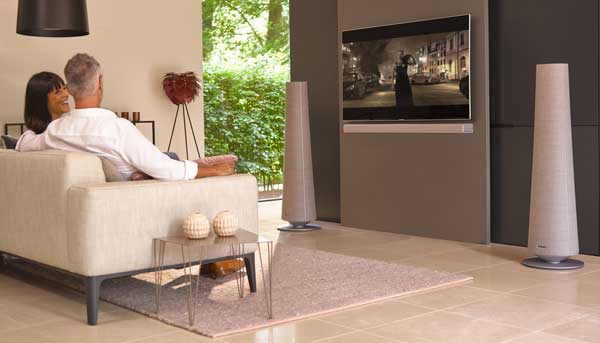 "Well-designed audio equipment will accurately reproduce all types of music so your music preference should not influence your purchase decision," continues Dr Olive.
"What matters most is how loud you play your music, and how important you like clean extended bass – research tells us that bass quality accounts for 30% of listeners' loudspeaker preference. Producing loud sound and clean extended bass is where most audio systems, and the money in your wallet, part ways. But if you want a true concert hall experience with extended bass, you will need larger speakers with multiple drivers. Alternatively, you can add one or more subwoofers."
"In classical music performances, the first announcement before it begins is to turn off your phone, so do this at home," advises Dr Olive, an advocate of the art of active, or 'deep' listening – when listening to music is your only activity.
"Turn the lights down, create an atmosphere, close your eyes and focus on the music. You may find yourself tapping your foot, moving your body to the beat, singing the melody, anticipating some of the musical structure or anticipating the next chord changes. It's an enhanced, emotional experience."
If you're planning on investing in some state of the art home audio equipment, you can ensure they're fully protected, should the worst happen, with a Private Client household insurance policy from Footman James. Our Private Clients team is experienced in dealing with exceptionally high-value items & complex collections, providing appropriate cover for your most prized possessions such as fine art, luxury watches and jewellery.