30 June, 2015
To a younger generation, he's probably best known for eating live cockroaches, fried tarantulas and other ghastly creatures in TV's "I'm a Celebrity..."
But to motorsport fans of the 1990s, the name Carl "Foggy" Fogarty means just one thing: an all-time riding great.
Can you believe it's now 15 years since Fogarty called time on his racing career?
But old habits die hard and the multi-world championship-winning star is now attempting to restore his first bike - 40 years after first setting eyes on it.
The honour of undertaking the restoration project goes to the workshop at the Solihull-based National Motorcycle Museum.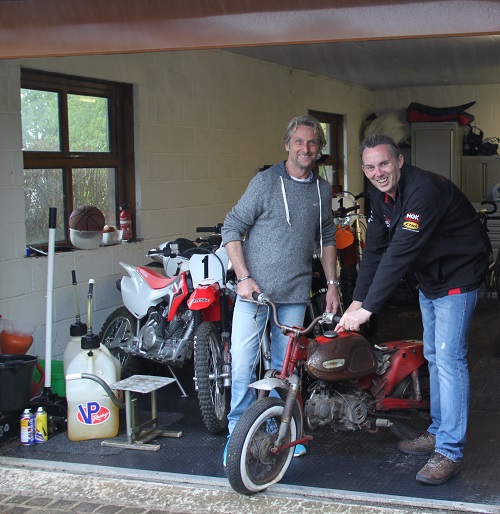 Foggy's first bike
The special edition little Honda C50 was tailor-made, but not for Foggy.
Ken Martin, a Honda dealer, created the machine for son Chris in 1972. Today it still bears the tank badge emblem "motochris" in honour of its first owner.
George Fogarty bought the bike for Carl to mark his 10th birthday.
Now, four decades on, Foggy has been re-united with his first bike - and is bent on getting a renovation job done on it. Classic motorbike insurance and a return to the roads await after that.
The 49-year-old former champion contacted James Hewing, the museum's director, as the pair have worked together in past years.
What they say about the project
Foggy was the first to admit his original pride and joy was in a "rough" condition.
But he is confident the museum's workshop will return the bike to its original 1975 condition.
No pressure there, then.
Hewing said that his restoration team has never worked on anything like Fogarty's Honda C50 before.
They've restored 1970s superbikes and the rarest and earliest veterans, so Hewing is "really pleased" the museum has been chosen by Fogarty for the project.
If you'd like a restoration job fit for a world title winner - all you have to do is email james@thenmm.co.uk or ring (01675) 443311.
The museum's address is Coventry Road, Bickenhill, West Midlands B92 0EJ.
Foggy factfile
1965: born in Blackburn
1975: gets his first motorbike from dad George, himself a former motorbike racer
1991: races for Honda's world superbike UK team
1994-99: wins the World Superbike title four times in this six-year purple patch, 1996 and 1997 being the only years the title eludes him
1998: awarded an MBE
2000: announces racing retirement after a career which brings him 59 wins
2014: reinvents himself to a younger audience by winning the 14th edition of I'm a Celebrity, beating off the challenge of The X Factor's Jake Quickenden and TV presenter Melanie Sykes
2015: reunited with his first bike