Restored De Dietrich ready for Chateau Impney challenge
A painstaking, decade-long restoration project will reach its climax this summer when a rare Edwardian classic takes part in the Chateau Impney Hill Climb.
The recently completed 1909 Lorraine De Dietrich, restored and driven by VSCC member Richard Scaldwell, will compete in the Edwardian and Veteran Cars class, taking on a stellar line-up of cars that includes the Piccard-Pictet and the fearsome Metallurgique Maybach Special.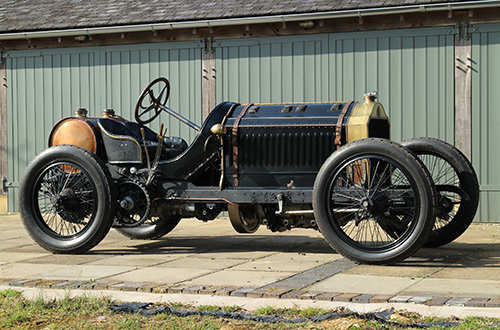 A car restorer by trade, Richard has been rebuilding the regal 16.5 litre, four-cylinder De Dietrich for the last ten years from the bare bones of a salvaged De Dietrich. A labour of love, the car is a hybrid of Edwardian Franco-German engineering that Richard has spent the last decade seeking out and crafting additional parts for.
The history of the De Dietrich name has been linked to one family across Europe for more than three centuries. The company was mainly concerned with cast iron production and latterly railway rolling stock, with production split across two plants at Luneville, Lorraine and Niederbronn, Alsace, following the Franco-Prussian war in 1870. De Dietrich entered automobile manufacturing in 1896 but the foray was short-lived, as car production ceased in Alsace in 1905 when the company resumed its focus on mechanical construction and engineering. The newly independent French factory went on to build the Lorraine marque for only another three decades. The fact that the cars were produced during such a short period makes Richard's example especially rare, and its debut at Chateau Impney all the more special.
In period, the marque's reputation was built upon its consistent competition record as the factory was keen to prove its cars in competition. One of the De Dietrich's most prominent exponents was American, turned French, racing driver Arthur Duray, who was very involved with the development of the race cars and Richard's car is typical of the cars he was experimenting with between 1906 and 1909. Duray was also famous for his 1911 land speed record attempt in the Fiat S76 – the Beast of Turin – which will face off De Dietrich in the same class at the forthcoming Hill Climb.
Some of De Dietrich's highlights during its career included third place in the 1903 Paris-Madrid Rally for British racing driver Charles Jarrott, as well as two victories for Lorraine sports cars in the Le Mans 24-hours race in the 1920s.
As well as being known for his restoration work, Richard has been a keen competitor on the historic motorsport scene for the last 25 years, and is well known for driving the 5.1 litre Jap-engined GN Grand Prix Special at the majority of the country's top venues including Shelsley Walsh, Prescott and Loton Park. Negotiating the Hill Climb course in the De Dietrich will be a very different experience however, as the Edwardian behemoth weighs more than twice the GN Jap and will be a real test of his driving expertise. Richard is confident, however, that the car will still hold its own and achieve a respectable time on the day.
Richard said: "Many people do not really appreciate how fast and effective these early GP cars were, with giant engines in a fairly standard production chassis. This made the better examples capable of well over 100mph, yet they were still flexible and driveable for very long distance races."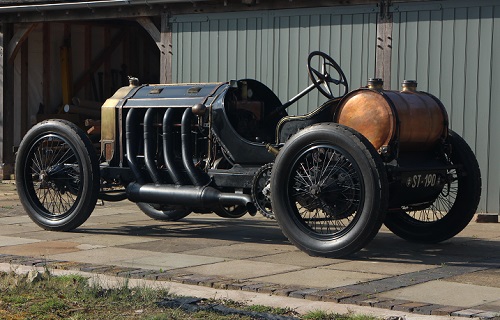 "The car is geared to do 110mph at only 1500rpm meaning that the torque produced is as impressive today as it would have been in period. I'm approaching the Chateau Impney Hill Climb with some trepidation as I don't know how it will cope with the demands of the course, but it will certainly be entertaining!" he concluded.
Speaking ahead of De Dietrich's debut at Chateau Impney, Rod Spollon, chairman of the Chateau Impney Hill Climb Club, said: "De Dietrich embodies the very best of combined Edwardian French and German engineering in period and Richard's painstaking research and restoration is clear to see in the finished car. However, it's a very different beast from the familiar GN Jap so we are looking forward to seeing how he negotiates the challenge ahead."
The new weekend-long Chateau Impney Hill Climb event is taking place in the grounds of the landmark hotel on 11 and 12 July and is an opportunity for enthusiasts and families to see a vast array of classic cars compete on a brand new hill climb course. The event will also include a comprehensive Concours d'Elegance, more than 100 dealer and trade stands and a major classic car auction, hosted by specialist auctioneers, H&H Classics.
Tickets for the Chateau Impney Hill Climb are on sale now and start from £20 per adult. Children under 16 go free with a paying adult. Any online ticket purchases made before Tuesday 30 June will receive a 10 per cent discount.
To find out more, visit www.chateauimpneyhillclimb.com