IS RESTORING A CLASSIC CAR A REWARDING INVESTMENT?
Who said you can't have fun restoring a classic car? We discuss why investing and restoring a vintage car maybe more rewarding thank you think, with London based luxury renovation company Classic Investments.
In Geneva, in 1961, a car was unveiled that shifted the perception of cars as art. Its launch is now the stuff of folklore, with tales of journalists falling over each other to see the sensation for themselves. It's no exaggeration to say that this legend re-defined car design and epitomised motoring beauty for many. 
2021 marked the 60th anniversary of the Jaguar E-type, the quintessential British sportscar, but the story of this timeless icon is far from over. Thanks to specialists and restorers, a new generation of enthusiasts and collectors are discovering the joy of ownership.
If you're not a dyed-in-the-wool motoring nut, it would be easy to think about classic cars as just another investment – something to be purchased, then kept under lock and key: proverbial money in the bank. For the right cars, in the right condition, the market has certainly been buoyant and big gains in recent years mean halo cars like the E-type are now on people's radar.
"The Jaguar E-Type is a perennial favourite, it's in our top 10 most-insured models", explains David Bond, Managing Director at Footman James. "It retains a special place in many enthusiasts' hearts and we know from speaking with our clients how dedicated owners can be."
"The E-Type market will always be solid and stable, but for some its true value may have been overlooked over the past few years. However, we're seeing renewed interest, and milestones like the 60th anniversary of that famous debut have served to remind and reinforce its iconic status."
Image credit: Classic Investments
UK based specialist Classic Investments wants its customers to have their heads and their hearts invested in the cars they commission. "It's not about creating a perfect car; it's about creating the customer's perfect car – it's a subtle but important difference." says founder Agris Alksnis.  
These are restoration projects whose work is measured in thousands of hours, and the end results justify the attention to detail lavished on them. With an international team of craftsmen working on every nut and bolt, the company handles concours work as well as subtle modernisation, without destroying the aesthetic of the original design. It carries out the entire restoration in-house, including re-chroming of all parts, reupholstering and restoring seats and interior trim in order to guarantee perfection.
Image credit: Classic Investments
One of only 1,583 Right-Hand drive Series 1 4.2 Coupes built, Classic Investments' 1966 Jaguar E-type must rank as one of the most meticulously finished and presented examples in existence. Originally bought new by a U.S. Army Sergeant serving in West Germany, it was wrecked in 1968 and then parked. This means that the 24,555 miles on the odometer are correct, making it rare indeed.
Finished in a contemporary Opalescent Gunmetal with a red Italian leather interior, the car manages the difficult task of looking cutting edge while remaining faithful to the vision of William Heynes, the then head of Jaguar design. "This is one of just six car designs recognised by the New York City Museum of Modern Art as a permanent addition to its collection," explains Agris. "You can't be heavy handed when it comes to working with these cars, and small mistakes can leave the finished project wide of the mark."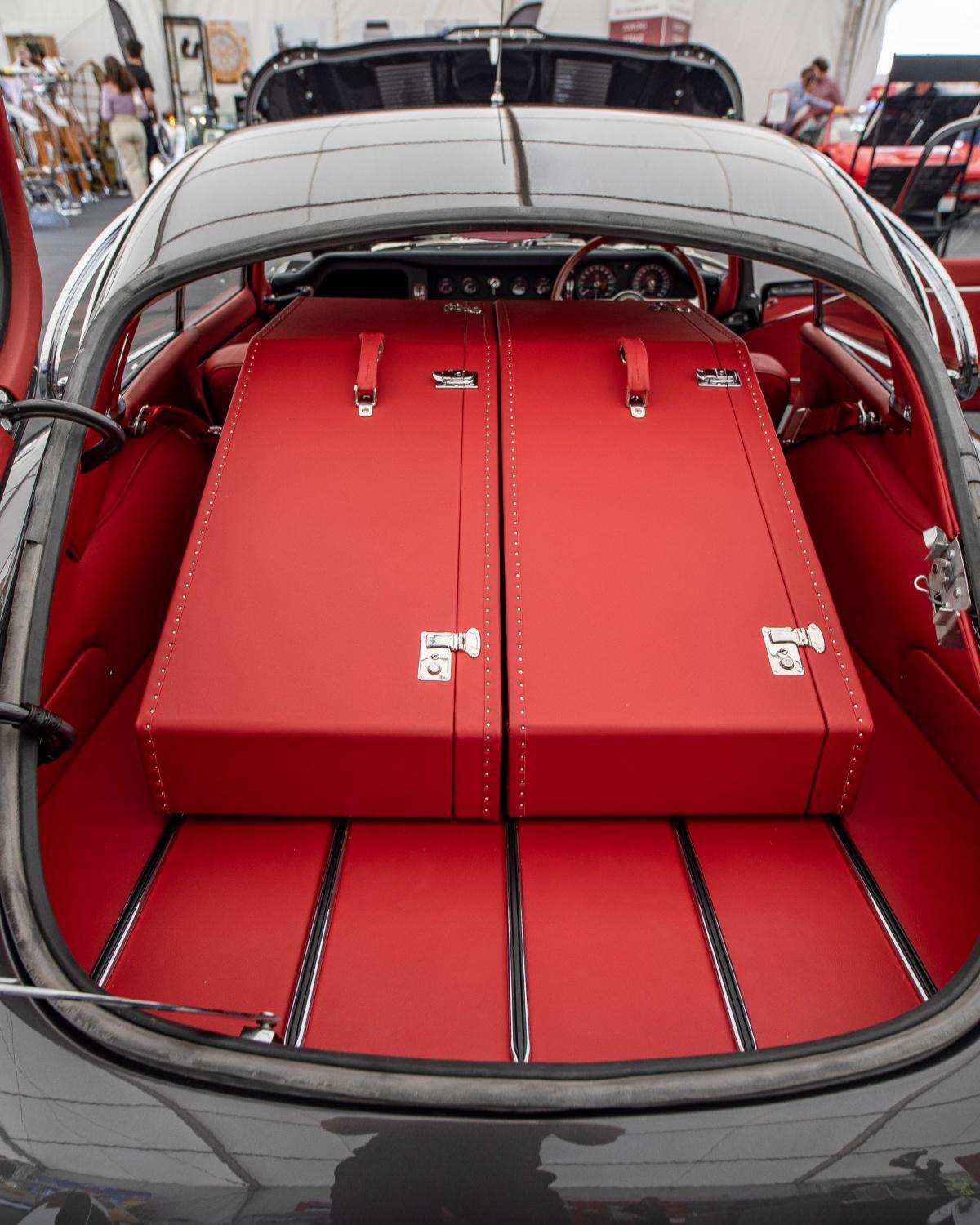 Image credit: Classic Investments
Interestingly, it's not just about the car, as Agris understands that you can amplify the experience with some bespoke additions. Handmade luggage is one of the more popular options and, using traditional techniques and materials to create mounted or enclosed trunk luggage, it can create contemporary pieces or articles indistinguishable from the original. Almost anything is possible – the customer's imagination being the only limit. "It's a case of providing a unique touchpoint that helps you anticipate and appreciate the car before you even sit in it. Just pack a case for a weekend away, and you're ready thinking about the drive ahead. These are cars to be used and not simply stored in an air bubble – where would be the enjoyment in that? Yes, you are investing, but who said you can't have some fun at the same time?"
Do you enjoy restoring classic cars or bikes? Let us know which classic you have restored or are currently restoring in the comments below.
The information contained in this article is based on sources that we believe are reliable and should be understood as general risk management and insurance information only. It is not intended to be taken as advice with respect to any specific or individual situation and cannot be relied upon as such. If you wish to discuss your specific requirements with FJ, please do not hesitate to contact at news.views@footmanjames.co.uk. Footman James is not a financial advisor and the information contained in this article is not intended as, and should not be construed as, financial advice. For investment activity FJ always recommend that you seek advice from a professional investment advisor.