When Harry took his Rolls-Royce to the Arctic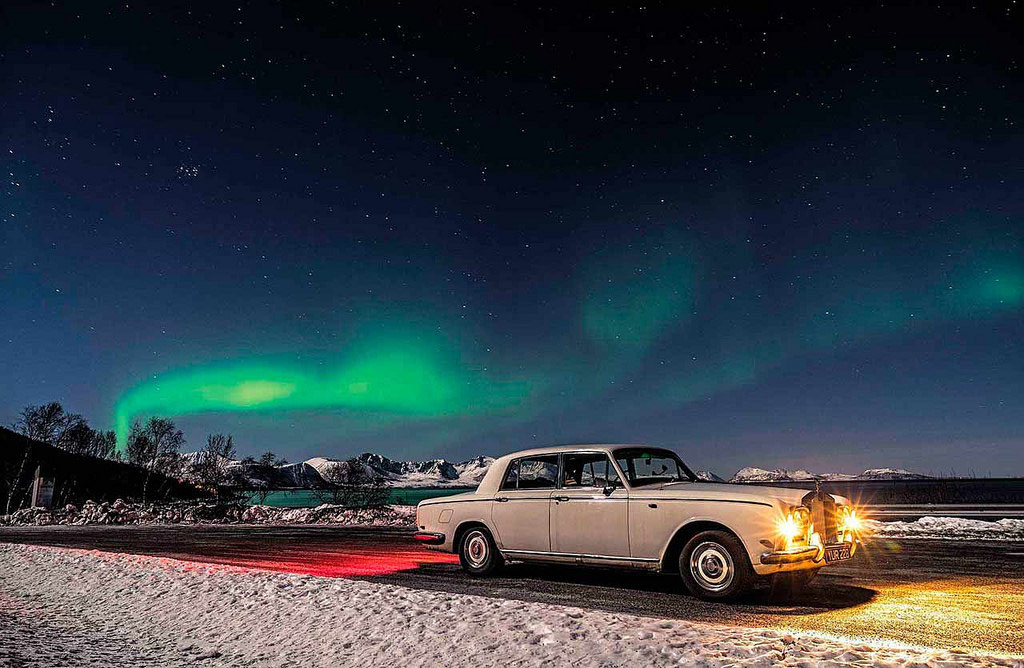 (Photography Credit: Justin Leighton)
Harry Metcalfe, star of YouTube's Harry's Garage, sponsored by Footman James, has created two stunning videos that tell the thrilling story of how he recently took his Rolls-Royce all the way to the Arctic Circle…
When Harry Metcalfe snapped up a 1969 Rolls-Royce Silver Shadow on eBay for just £4,100, one thing was clear - this handsome new acquisition of his deserved a really big trip to showcase its classic comfort, serene ambience and fingertip-light steering.
So, after treating the Rolls- Royce to a much-needed full service, Harry and his wife set off to fulfil a long-held dream: an epic 2,260-mile journey to the Arctic Circle in northern Norway; not forgetting that it was the middle of February!
Emerging from the Channel Tunnel they drove across half a dozen countries, entranced by the grand view down the Shadow's long bonnet. By the time they reached Norway, conditions had become seriously wintry, but the Rolls-Royce was still unperturbed by the sub-zero temperatures.
Heart-stopping moments
There were some heart-stopping moments along the way – such as the morning when the engine started spewing out clouds of black smoke, or when a 42-tonne truck came thundering towards the Metcalfes on a narrow road hemmed in by giant snowbanks. But the Shadow behaved beautifully, even under the most extreme conditions.
Eventually they reached their destination: the mesmerising beauty of the Arctic Circle, and in the distance, there was now a faint green haze against the black sky – the first glimpse of the magical Northern Lights.
'An inspired choice'
Harry says the Shadow turned out to be an inspired choice for this epic trip, with the kind of ride quality that modern cars just can't deliver.
But more than that – it was the sheer quality of Rolls-Royce engineering that got them all the way to the Arctic Circle. Simply put, the Shadow was built to last.
 "It's time this car is recognised for what it is," says Harry, "a genuine world-beater in its era, and a truly remarkable car still."
 You can watch Harry's fantastic journey over on his Youtube channel, Harry's Garage.