Should we use today's safety devices on our classics?
When Volvo introduced the three-point seat belt in 1959 it changed road safety forever. In an era where drivers and passengers were wearing a two-point waist restraint that sometimes did more harm than good, Volvo did something different. It developed a safety device and decided that saving lives was more important than the bottom-line and profits, so offered it patent-free for all car manufacturers.
The same can be said for other engineering safety products such as anti-lock braking systems (ABS). First introduced on a production vehicle in 1978, it was the first time an electronically controlled four-wheel anti-lock braking system was available and fitted to passenger cars.
As many know, there's a community of cars on UK roads that don't have this technology.
We look at the facts, figures and discussion points around whether we should use today's safety devices on our classic cars.
When modern-day cars carry more safety devices than ever before, how do classic cars compare?
Not very well, but that's to be expected to some extent.
A test by industry body Thatcham Research in 2017 compared a modern-day crash test with a 1997 Rover Metro 100 and a 2015 Honda Jazz. While the Jazz's occupants would've walked away from a 40mph crash, those in the Metro might not have been as lucky. With the 'safety cell' not performing the way that the modern city car did, it showed the value of modern-day testing and safety standards.
"Wherever you were sitting in the Rover 100 it was bad news. In a head-on crash at 40mph, you definitely do not walk away," said Thatcham Research expert Matthew Avery.
Not good news for occupants of late-Nineties city cars and indeed the same can be said for many other classics. This leads us to ask some questions about adapting classic cars to be safer on the roads, not only for the occupants but also other road users.
Armed with what we know about safety devices and crash testing, should owners retro-fit modern safety devices to classic cars that don't have them?
Retro-fitting isn't a new thing, it's actually been around for a while. Typically used in the context of audio systems, where owners want to improve their car's stereo sounds using modern-day technology, we ask: why isn't it as common to upgrade things that will save lives, rather than just sounding good?
Well, some companies in the UK and beyond have tapped into this market already. While not all are as generous as Volvo with giving away their safety gear for free, it doesn't have to cost the earth. However, there are a few barriers that we should talk about, other than cost, before we look at modifying our classic cars.
Changing a classic car's originality in this context shouldn't affect a car's MoT or testing. Of course, MoTs are only a requirement if your car's younger than 40 years old. However, if you're adding and modifying the car to include things like safety devices (such as retrofitting seat belts at home) then your MoT tester shouldn't frown or turn you away.
Then there's whether classic car owners want to change the way that their car drives and feels in order to make their vehicle safer. Much like adding seat belts to your classic, it's an ongoing debate with enthusiasts at club meets, on members' forums and on Footman James' website. It comes down to personal preference over the value of safety. While it's true that owners of classic vehicles typically use their car less than other motorists, evidence points to the fact that you face a risk even if you do one mile rather than 10,000 a year.  
Finally, the cost. For major changes such as brakes and adapting your car to fit them, then there's a significant investment in terms of time taken to adapt your car plus parts used.
Your thoughts
We recently ran a poll across our social media channels to find whether people thought you should retro-fit modern safety devices to classic vehicles. The results were very close, see below.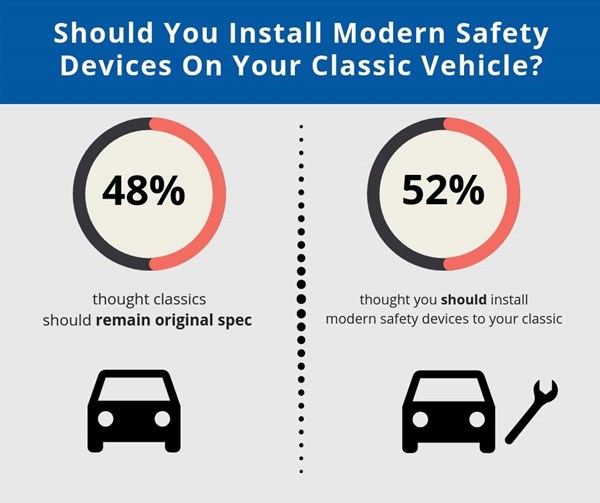 Have you fitted a safety device to your classic car recently? Or maybe you bought a car with upgraded parts to keep you safer? Let us know in the comments with your experiences and thoughts on whether we should use today's safety devices on our classics.