Marsh & Slogger at this year's Stafford Bike Show
 The annual Stafford Bike show is just around the corner and once again our Footman James team will be in full force to talk everything classic bike and classic bike insurance related.
Working closely with our partners at the National Motorcycle Museum, we have attained two stunning examples of classic bikes for you to feast your eyes upon. 
1963 500cc Marsh MR4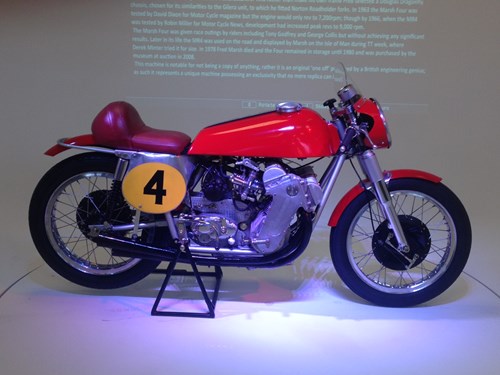 During the fifties, Italian multi-cylinder machines started to dominate the bigger grand prix racing classes and many race fans were left disappointed that the British motorcycling industry preferred to focus on selling 'bread and butter' machines to the public. This was until Fred Marsh – a fitter and turner at the Harland & Wolff shipyard in Southampton -  decided that he could make a difference when he set about building his own four-cylinder racer in the mid-fifties.
Most of Marsh's engine was made from scratch on a lathe in his shed at the bottom of his garden, although the cylinder heads are modified Triumph Terriers and their valve angle being suited to the 125cc MV Agusta cam forms selected.
Track tested in 1963 by Motor Cycle, the engine appeared sluggish; that was until the re-test in 1966 when the engine reached a healthy 9,000rpm. Tony Godfrey, TT racing star, rode the four, but it was not fully developed before Marsh moved on to his V8 project.
In 1978, Fred Marsh passed away and his former colleague John Miell decided to buy the machine, making improvements by correcting the valve gear problems and fitting carburettors. Due to the lack of spares, Miell did not race the four but revved the classic to 9,500rpm in third gear when parading; equating to a top speed of 130mph.
1946 AJS Model 18
Otherwise known as the 'Solid Slogger', this classic bike was a common sight on Britain's roads in the fifties, since AJS are known for their reliability, comfort and economy. The touring singles were both offered in 350cc and a 500cc with many parts shared. The main difference, however, was the 500's larger cylinder bore.
The Teledraulic front fork was pioneered on the wartime Matchless G3L and the engine was developed from the military single. Having an identical heavy iron crankshaft flywheel and long stroke of the 350cc model provided the larger engine its solid, slogging character. The Burman four-speed gearbox had a deliberate change and was supplanted by AMC's own box from 1956.
Despite the detail enhancements, the AMC singles remained substantially unchanged until the early sixties. By then, the middleweight single was going out of fashion and the sales declined.
To find out more about the show, please read our Stafford International Classic Motorcycle Show event post.