Introducing The Stars Of The London Classic Car Show
So it's time to look at the souped-up stars who were on view at London Docklands' four-day festival (February 18-21) …
McLaren F1
The five McLaren F1s which were on display are estimated to be worth a combined £50 million in today's prices. To take just a glimpse at one of them is to know why they were the first sports car to attract a cool 1 million dollar price tag. When it initially hit the road, no other production car was faster. The LCCS jamboree paid homage to the icon. And who better to curate the superlative-laced retro than the car's designer, Gordon Murray? Vehicles have never emulated its feat of cracking the Le Mans endurance race on its first attempt.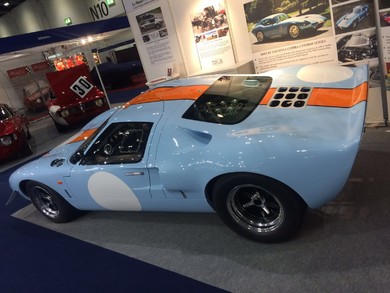 Lamborghini Miura
They say this year that 50 has rarely looked better, with the likes of Cindy Crawford, Luke Perry and Halle Berry all reaching the half-century mark in 2016. But they all have to give second best to that stunning 1966-born four-wheeled film star - the Lambo Miura. This is the same motor that starred in The Italian Job and it enjoyed its first public airing for decades.
Bentley Le Mans
Over 90 years since its engine was turned on for the first time, can you believe many had the chance to see this regal old lady roar down the LCCS Grand Avenue? This three-litre classic was Bentley's inaugural entry at Le Mans.
Matra MS120
Has any other racing car's purr ever been more aesthetically pleasing than this one? For many, the sound of 46-year-old machine's Simca V12 motor more than compensated for the lack of silverware in its trophy cabinet.
Jaguar E-type racer (1961)
One peek at this distinctively curvaceous classic is to transport onlookers back to the golden age of motor racing. If you fancy owning it yourself, it will set you back between £700,000 and £900,000 when it goes under the hammer in April.
What other automotive delights were on show?
The Classic Six Nations Cup: 6 of the world's leading car nations battled it out to see who the most popular car manufacturer is. The UK faces stiff challenges from Germany, France, the US, Japan and Italy. Lamborghinis, Chevrolets, Mercs, Bugattis, Jags…
The Evolution of the Supercar: The CCA traced the history of this most exciting of motor genres and their bid to get lighter, smarter and faster
Car Club Square: This new addition brought  a feel of the old British Motor Show during the 1960s - with a host of leading car clubs strutting their stuff
Do you have any stories/highlights from the show?  We'd love to hear them! Tweet us @Footman_James or post on our Facebook page.