Why McQueen Was Mad About Classic Motor Vehicles
Can any showbiz star have loved his motors more than Steve McQueen? He died aged 50 in 1980, leaving 138 bikes and 38 cars.
The Le Mans style icon not only kept classic machines, he also raced them… on and off screen. He's even just had a film released exploring his fixation with Le Mans called Steve McQueen: The Man & Le Mans.
Here we look at some of the highlights from the legendary actor's classics stable. And we also ask what fuelled his passion for all things motors?
McQueen's cars - 5 of the best
1. Chevrolet Pickup (1952): This comes complete with camper. He loved taking it out on cross-country holidays.
2. Jaguar XKSS (1956): McQueen owned this Jag from 1959-69 and again from 1977-80. It cost him dearly in speeding tickets, however. One let-off, though, came when he pretended his pregnant wife Nellie was going into labour.
3. Shelby Cobra (early 1960s): With its Ford V8 engine, this was once dubbed the world's quickest production motor and had a maximum speed of 140mph. These motors can now fetch $1 million dollars.
4. Porsche 911S Coupe (1970): McQueen's character Michael Delaney piloted this beauty in the opening sequence to the Le Mans' film.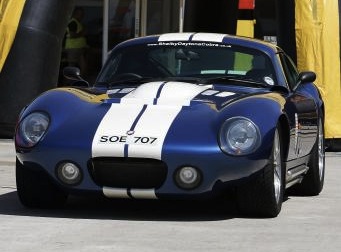 5. Mercedes-Benz 300-series sedan (1972): McQueen kept this for eight years. It was originally billed as the world's fastest sedan, able to do 0-60mph in only 6.5 seconds.
McQueen's motorbikes - 5 of the best
1. Indian Powerplus "Daytona" Racing Motorcycle (1920): A classic example of early pioneering bikes. Sold for $130,000 (£86,000) in 2006.
2. Indian Big Chief (1923): This distinctive gleaming red beauty comes complete with matching princess side car.
3. Harley-Davidson Model B (1929): One of 30-plus bikes that Steve Wright restored for McQueen
4. Indian Sport Scout 750cc (1934): Among the most popular 1930s models from McQueen's favourite marque
5. Solex 3800 (1966): A strange combo of pedal power and 49cc gas/oil engine. OK, so its top speed was only 35kph (21mph) and you had to pedal it uphill. But its fuel economy was positively frugal.
What fuelled McQueen's motor obsession?
We know that McQueen spent much of his adolescence on the wrong side of the law - and bikes were associated with rebellion back then.
We know that aged eight, he moved to Indianapolis, a motorsport capital and home to the Indianapolis 500 since 1911. But it's unlikely McQueen ever went. He had a notoriously bad relationship with his new stepfather and ran away to live on the streets.
Author and journalist Marshall Terrill's biography of McQueen believes he has the answer.
Terrill writes that the star's mother felt unable to bring up the three-year-old McQueen in the Great Depression of the 1930s.
So he found himself living with his favourite uncle, Claude, on his farm in Slater, Missouri.
Uncle Claude gave his nephew a postbox red tricycle on his fourth birthday.
In later years McQueen came to recall that moment as the day he became interested in racing, Terrill reports.
McQueen's passion branched out from three wheels to two- and four-wheelers.
The rest is history.
If you love your classic vehicle's as much as Steve McQueen, you will want to ensure that they are adequately insured should the worst happen. Why not check out our classic car insurance and classic bike insurance pages to find out more information about what our Footman James classic policies include.