Style or substance? Fashion cars
Car designers rarely tell fashionistas how to do their jobs, but there's a long and dazzling (literally) tradition for fashion houses to team up with vehicle manufacturers to produce limited edition models. Results have been mixed. We'll let you decide between the desirable status symbols that you'd love to get behind the wheel of, and those which would make you rather catwalk.
If you lived in 1970s America and you found the cars too conservative and lacking in gaud, you were in luck. Lincoln was a serious brand for fashion collaborations, teaming up with Givenchy for its 1978 Continental V and going on to work with Bill Blass, Cartier and Emilio Pucci. For a Givenchy V you'd be asked to pay a 16.5% premium on top of the standard car's $13,000 asking price, but for that you'd get swathes of Givenchy touches and an overwhelming sense of self-satisfaction… right up until someone pulled up alongside in a Gucci Cadillac Seville.
The Gucci Sevilles were put together by International Automobile Design Inc., which would take a standard 1978 car and lather it with a carefully selected pile of Gucci adornments to provide the pinnacle of "distinction, beauty and ultimate luxury." Apparently.
Another of our American favourites is the 1973 AMC Gremlin Levi's edition. Never considered to be the most fashionable of cars, the Gremlin was revitalised with the full double-denim treatment. From blue exterior to a denim-effect nylon interior complete with rivet-style details, it was proud of its genes.
The ever-stylish Italian manufacturers have been responsible for countless fashion projects. While Fiat has recently produced several limited edition 500s, Ferrari, Maserati and Lamborghini have all dipped their toes into designer waters. The 2006 Murcielago LP640 Versace is particularly noteworthy. For $1m you could have a personalised vehicle complete with matching luggage, driving shoes, gloves and even a watch, so you always knew that it was time to look good. It was also a Roadster. Of course it was.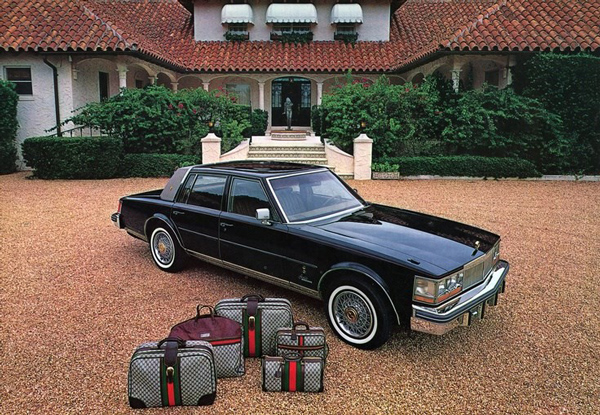 credit: Alden Jewell - flickr 
Fans of brown were in for a real treat in 1989. Citröen produced the Hermès 2CV6 Special, which was a sumptuous mix of high-quality leather and every shade of brown imaginable. It's one of the most recognisable fashion cars, but that overall accolade must surely go to the Smart forJeremy. Double the price of the standard Smart fourtwo, the Jeremy Scott-designed limited edition can be summed up in three words: it has wings.
The 1998 Rover Mini Paul Smith edition is worth a mention for its 9ct gold bonnet emblem and comparative commercial success: it sold 1800 versions worldwide and had nods to the designer's style throughout. There's also a Harrods Caterham Seven to consider and even a Swarovski S-Class; very few manufacturers have resisted the fashion house lure at some point.
However, our favourite – and a limited-edition fashion car which has created the greatest legacy – is 1981's Range Rover In Vogue. Keen to move its latest model even further up market, Land Rover teamed up with Vogue magazine to launch its facelifted model, which came with a picnic hamper. The launch was so successful that an icon was born and the name lives on today.
Have a fashion favourite or faux pas? Let us know in the comments below.