Summer ready? Five classic convertibles for less than £5k
With the Summer season almost upon us, we're already scanning the classifieds for the best budget modern classic convertibles… We've gathered our top five choices for those looking for a usable classic droptop for £5,000 or less. As always, we'd love to hear about your ownership experiences in the comments below.
Mazda MX5 (Mk1)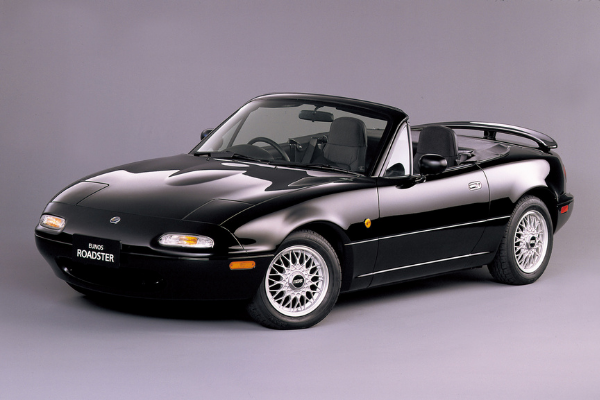 Credit: Mazda Newsroom
Drive a short distance in Mazda's iconic roadster and you'll realise what all the fuss is about. From the early 1.6i (114bhp) twin-cam to the later 1.8i (128bhp) offered from late 1993, all MX5s feel light, engaging, and responsive, with all the hallmarks of a brilliant rear-drive classic roadster. A passing resemblance to the original Lotus Elan is no coincidence - the MX5 is an example of the Japanese motor industry's knack for successful reinvention of an existing formula. Unveiled at the 1989 Chicago motor show alongside Honda's NSX, journalists were quick to point out how Hiroshima had taken inspiration from Hethel's moment of sixties genius. Mazda responded by selling almost half a million examples over the following eight years. An original, unmodified UK MX5 is a sure-fire future classic - find one in rust-free condition with a manual gearbox, but don't hide it away… The beauty is in enjoying it on the regular.
Audi Cabriolet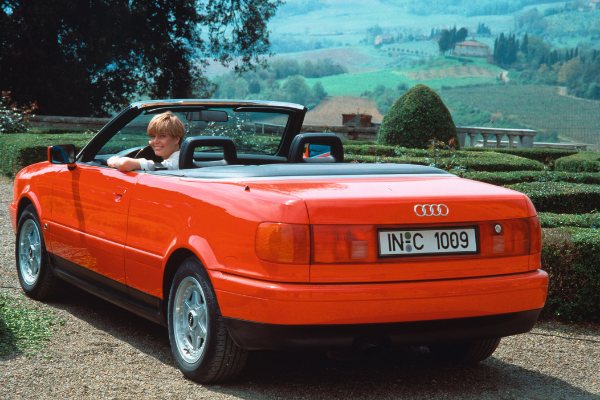 Credit: Audi AG
When Audi decided to loan a 1994 Cabriolet 2.3E press car to Diana, Princess of Wales, it turned out to be a PR masterstroke. Today the Audi Cabriolet may still owe part of its classy, elegant image to a royal association, but its sharp, high-waisted design still looks fresh three decades later. Based on the B3 platform and sharing the S2's styling, upgraded suspension and impeccable build quality, the stylish four-seater Cabriolet can still be picked up for around £4,000. Without the option of a turbo or quattro version, the Cabriolet is not a sports car – instead it is better suited to relaxed, roof-down cruising, especially in 2.6 or 2.8 V6 specification. Buyers should look out for the rarer 5-cylinder engine, check the electric roof operation, and remember that all B3 Audis were galvanised at the factory - so any visible rust may point to a previous poor repair. The more desirable S2 and Coupe models from the same era have enjoyed appreciation in recent years, but good examples of the Cabriolet remain well within our budget… for now.
MG F
Credit: MG
Consider how far £1,000 travels in today's classic car marketplace, and marvel at the MGF. Described in 1995 as 'the world's most complete and affordable open two-seater' by Autocar, this mid-engine, rear-drive sports car is still hard to beat if you're on a budget. It was the first all-new MG for 32 years, and a patriotic Longbridge team were proud to shout about the MGF's in-house design and development, without the helping hand of Honda. The car did make use of some familiar-sounding technology, including Hydragas suspension and the famed K Series engine, the latter enhanced by enlarged displacement and variable valve timing. The fact you can still secure a fun, mid-engined, rear-drive two-seater for a grand in 2022 is quite astounding. For around £3,500, examples of the more powerful and collectable MGF 160 Trophy are well within budget.
Alfa Romeo Spider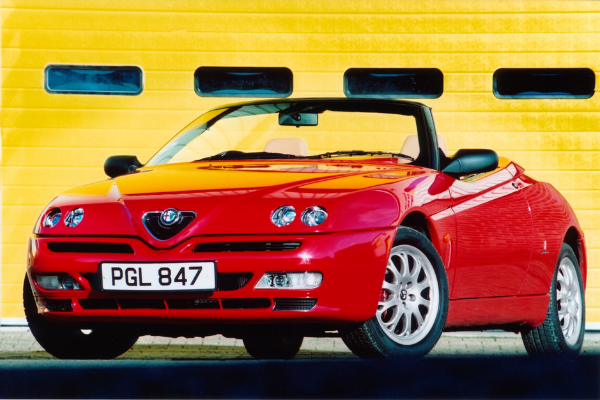 Credit: Stellantis
With examples of the original Spider now worth upwards of £10,000, attention turns to the later 916 Spider and its GTV sibling. Arguably the most exotic-looking thing on our list, the Spider's drop-dead looks were more than a decade in the making; that striking, steeply raked swageline can be traced back to Pininfarina's Audi Quartz concept car of 1981. Some say that 2003 styling facelift wasn't an improvement, so make sure you know which generation you're looking at. While the contemporary Fiat Barchetta is also worthy of consideration, the Alfa Romeo Spider might just be the finest Italian sports car you can buy for £5k. That money won't reach the sonorous Busso V6, but a 2.0-litre Twin Spark with the optional Recaro leather seats is still a fine thing to behold.
BMW Z3
Credit: BMW Group
Manufacturers often combine new designs with retro touches, with varying degrees of success, but it seems BMW got it right with the 1996 Z3. Those wing/bonnet vents hark back to the great BMWs of old – 507, we're looking at you – while the brawny, muscular shape makes a refreshing change from the softer styling of the contemporary Mercedes SLK. The Z3 also offers a more-involving driving experience, especially if you find one with the 2.8 or 3.0-litre straight-sixes and a manual gearbox. It was the first BMW model which was never assembled in Germany, with production of all Z3s completed in South Carolina. The Z3 is also one of the cheapest ways into a Bond car - an Atlanta Blue 1.9-litre Z3 had a starring role in the 1996 blockbuster Goldeneye.
Which is your pick? Have you owned any of our choices before? Let us know your views in the comments below…